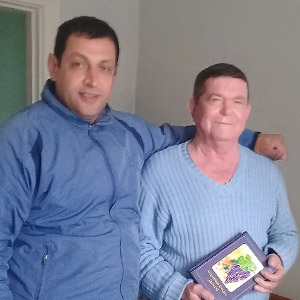 Not long ago, we received a great report from Khafis, a faithful SGA-sponsored missionary pastor. Khafis ministers in one of the Caucasus nations bordering Russia where evangelical outreach must be conducted discreetly. He sends his thanks for your prayers and faithful support that make his ministry possible. Khafis is reporting on Operation Winter Warmth ministry that took place over the winter and into early spring.
"During these past three months, we visited several regions in our country and were able to distribute aid to families that were in need of warm clothes. This also opened up opportunities for us to share the Gospel of Jesus Christ, and why He gives His grace to all people. We have been following up with these families, providing them with warm clothing, medicine, blankets, and groceries. We are so thankful to God for these opportunities to visit remote villages. We pray regularly for these needy people, and ask that you please join us in prayer for them as well. We want to invite them to the church, and continue showing them the love of God, and to strengthen our relationships with them through the Word of God. 

Thank you so much for everything! May the grace of our Lord Jesus Christ be with you all."
Please continue to pray for Khafis and his fellow laborers in the Caucasus. Pray for God's continued provision for ministries like Operation Winter Warmth, food aid through Compassion Ministry, the Crisis Evangelism Fund in Ukraine, and other humanitarian aid opportunities as God opens the door.