Editor's Note: The images below were provided by SGA-supported Pastors and their churches in Poland.
SGA-supported Pastor Volodymyr knows firsthand the powerful effect that distributing food can have on refugees in need of hope
On May 2nd, Volodymyr and his church began unloading trucks filled with humanitarian aid. This timely emergency assistance had arrived from another SGA-supported church in Poland. Volodymyr quickly organized deliveries to refugees throughout their region, and several other local churches joined in to help.
"In most cases, we distribute food to refugees and share God's Word with them," said the pastor. Several churches in the region even organized accommodations at churches for up to 80 refugees. "Most of the refugees living in the churches are far from God. And at this difficult time, they hear about God for the first time and begin to pray to Him." 
In addition to giving them grocery packs, some churches go the extra mile of adding a Gospel booklet into the bag. Additionally, they make sure that church volunteers are available to pray with refugees who wish to receive spiritual encouragement.
At this point, 20 churches in Volodymyr's region are actively involved in helping refugees. Currently, the churches have collectively taken care of 656 people! The main needs of these people are housing, food, and clothing. Volodymyr reports that people are incredibly grateful for the aid and wish to send a huge THANK YOU to all those generously giving, collecting, and transporting humanitarian aid.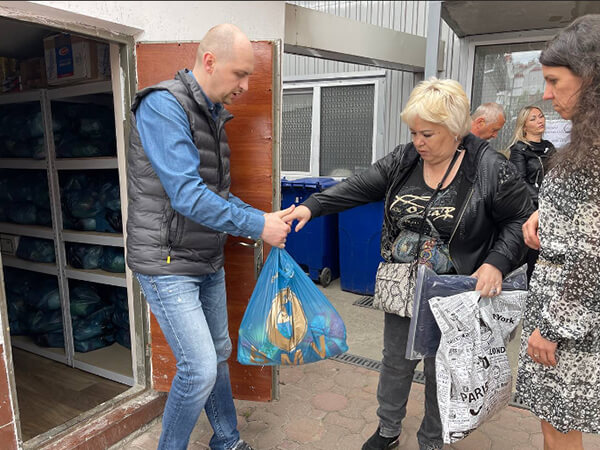 In a time of great uncertainty, God is bringing help, healing, and hope to the people of Ukraine through SGA-supported pastors, churches, a seminary, and SGA-sponsored Compassion Ministry. Be a part of God's incredible work with your generosity and prayer support.
Your gift of compassion helps struggling people with emergency aid that generally includes Scripture materials, food, medicine, warm clothing, and shoes.