Here is the 5th report from Pastor Leonid residing in the Mykolaiv region. For those who continue to suffer in Ukraine, the church remains a center of hope to local communities, often becoming essential in the community as a place of refuge. And as the weather starts to turn cold again, aid from local churches means the Gospel can go forth to those seeking warmth, help, and hope.

Thank you so much to our friends like you who continue to support those facing hardship. As Pastor Leonid shares, "If you continue your good work, you will make life easier for this category of people. Then, we can continue to reach out to people for the Gospel, to sow the living Word of God in their hearts."
Dear friends!
I greet you with the love of our Lord Jesus Christ.
We are very grateful for the food and help, and to all of you who participated so that people in need, those who survived the occupation, IDPs and victims of war, could receive it. We praise God for all the sponsors and SGA! An IDP family received help from SGA partners. The village they used to live in was in the line of fire. 
Story from the father of the family:
"Our village was often shelled by the invaders. As a result, many people had already left the village. We still stayed at home, we have a deep cellar where we basically started living. Our family: my wife, our three children and me.
             "One day, a tank was placed behind our house, and it became very dangerous for us to stay in the village, because we knew that they would start shooting at the tank more accurately. Therefore, one of the enemy's missiles could easily hit the cellar, and the cellar is not as strong as a bomb shelter. Therefore, the possibility of the cellar becoming a family grave has increased. We packed the necessary things and moved to another village. Later we found out that our house and almost our entire village had been destroyed.
           "We are very grateful to everyone who raised funds and participated in making it possible for us to receive this humanitarian aid. We are very grateful that you do not know us at all, but you care about making it easier for us to survive these difficult times of war in our country. May God help all of you."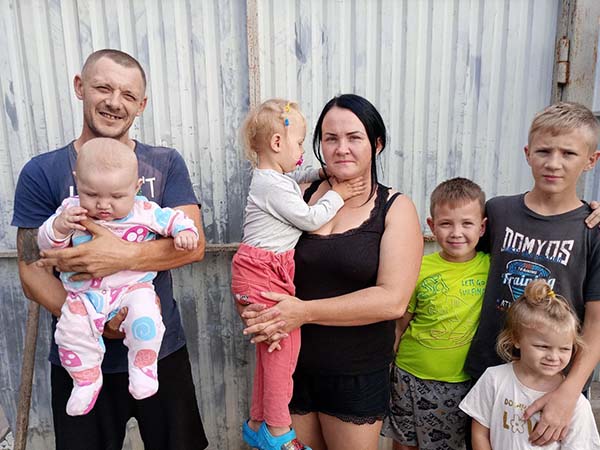 A large family. Seven children. The youngest daughter was born with a heart defect and survived the occupation. The factory where the father worked was bombed. The father lost his job. There is also an older daughter and son, who are currently working or looking for a job. I am also grateful that through humanitarian aid we used to gather people for evangelism, and now some of those people have expressed a desire to come to small groups to have Bible studies. And thanks to your efforts, we are able to help them as well. All these people have survived the occupation and suffered from the war.
[Pastor Leonid continues]: We believe that the Lord will bless you all; and the partners of SGA will have the opportunity and desire to continue to do this blessed ministry, which is very important in difficult times for many people who stayed here to live and protect us. It is especially difficult for people who have been under fire and occupation. Some of their property was looted, some was bombed, and many people were left homeless and unemployed. If you continue your good work, you will make life easier for this category of people. Then, we can continue to reach out to people for the Gospel, to sow the living Word of God in their hearts. Jesus Christ told a parable about a sower of the Word of God in the hearts of people. Those people whose hearts were soft bore fruit, some a hundredfold, some sixtyfold, and some thirtyfold. 
            Jesus Christ taught us; "By this my Father will be glorified, if you bear much fruit and become my disciples". Therefore, your work in providing humanitarian aid and distributing it to the affected people is a most blessed and important work, because it softens people's hearts so that the Word of God could dwell in them. And then they will be able to bear good fruits that will glorify their Heavenly Father. 
            We are thrilled with what the Lord is doing in our area to save people. And we are especially grateful to Him for your work, which makes it even easier for us to participate in this blessed work in God's field, preaching the Gospel. We pray for you that the Lord may abundantly bless you all. Many thanks to all of you. Glory be to our Lord and Savior Jesus Christ!
            In the short video below, mothers and their small children just wanted to thank the SGA and all the generous sponsors who love the Lord, love our people and help us with food all the time! 
In His love,
Leonid Tsure
Pastor in Mykolaiv region
In a time of great uncertainty, God is bringing help, healing, and hope to the people of Ukraine through SGA-supported pastors, churches, a seminary, and SGA-supported Compassion Ministry. Be a part of God's incredible work with your generosity and prayer support.
Your gift of compassion helps struggling people with emergency aid that generally includes Scripture materials, food, medicine, warm clothing, and shoes.