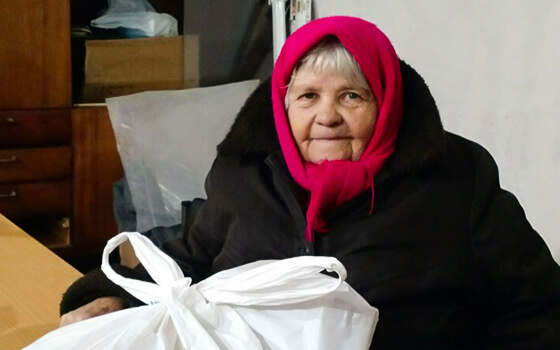 Sydorchuck O. reports on his church's outreach in Donetsk Oblast of Ukraine
NOTE: Through Compassion Ministry, SGA-sponsored churches follow the example of Jesus by demonstrating His compassion in word and deed, "helping the forgotten." The SGA Crisis Evangelism Fund reaches out to meet the special needs of people living in regions or countries ravaged by war, extreme violence, and acts of terror.
Three families from Probuzhdenie Church participated in ministry through Crisis Evangelism Fund/Compassion Ministry. In the first three months of this year, they have visited twelve unbelieving families in Avdiivka, Ukraine.
Most of the supported families through this program are homes run by men and women who are advanced in years, single people, mothers with little children, those with low income, and/or wounded.
The supported families are very needy and are thankful for any help. Several people have started attending the church and their children come to Sunday school. Others show a positive attitude toward the church and Christians.






Here are two testimonies from individuals our team ministered to:
From Shakhkunyants:
"I am a pensioner, live in the front-line town of Avdiivka. I am facing material hardship. Your support makes my situation possible to survive. I thank God and thank you for [your] caring attitude."

From Laktionova:
"I would like to express my deepest gratitude to people who were able to provide me with food in the times of hardship. I am enduring Parkinson's disease and cannot move unaided, but the Lord did not leave me and provided through all of you. God bless you!"