Editor's Note: The images and testimony below were provided by an SGA-supported network of churches in Ukraine.
With help from friends like you, God is blessing Ukraine and the Ukrainian people with His mercy. Christians working at the Coordination Center of the Ukrainian Baptist Union would like to sincerely thank all those who've supported their efforts during this time.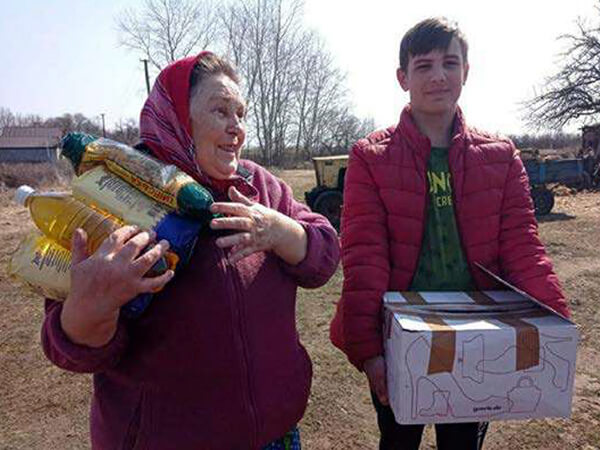 As those on the ground have reported, "The nature of the multi-faceted ministry of our churches today resembles the work of an emergency service. The Baptist Union is trying to respond to challenges that are constantly changing. We are focused on the practical manifestation of Christ's love and the effectiveness of the Gospel."
Read the seven stories below and be encouraged as you recognize God's goodness amid intense hardship. Praise the Lord!
Church buildings are crowded during worship with non-believers
Before the war, 49 pastors served a Ukrainian-controlled region. Today, 10 pastors and other brothers in Christ who have not evacuated continue to serve in this region. One minister leads the church services in three or four churches. At this time, church buildings are crowded during worship with many non-believers. We praise God that hearts and lives are being opened to the message of the Gospel!
Churches living under occupation
"Literally, from the first days of the war, our region was in danger," regional pastor Smolyakov told us. "Now, the situation in churches is uncertain, but most of them try to continue having services."
The attendance at these services, he reported, has significantly decreased. Seven churches suspended meetings because church members were forced to leave. Since then, some humanitarian workers have managed to deliver aid and visit several regions.
Let's continue to lift up all the churches overseas experiencing such great uncertainty!
Breaking through under the shelling
Because of the war in Ukraine, one city was left without any communications and utilities: electricity, water, gas, and phone access were all cut off. Only a few people remain from the local churches. However, one local pastor, Gennady, led a team of ministers to deliver humanitarian aid to the community. These brave brothers in Christ brought cereals, canned food, flour, water, bread, and even sweets for children to bring the hope of Good News found in the Gospel.
Homemade canned jars labeled with Bible verses
There are 150,000 officially registered IDP's (international displaced people) in one region of Ukraine. The helplessness of these people, including their uncertainty and despair, give the local churches a huge opportunity to minister for the Gospel. Amazingly, local churches prepare 200 servings of food for their servicemen twice a week, bake 50 loaves of bread, and make 100 cans of stew. Bread is delivered to a school where many refugees are temporarily located. Evangelism teams and church youth deliver the cans with biblical texts written on the containers to military units and checkpoints.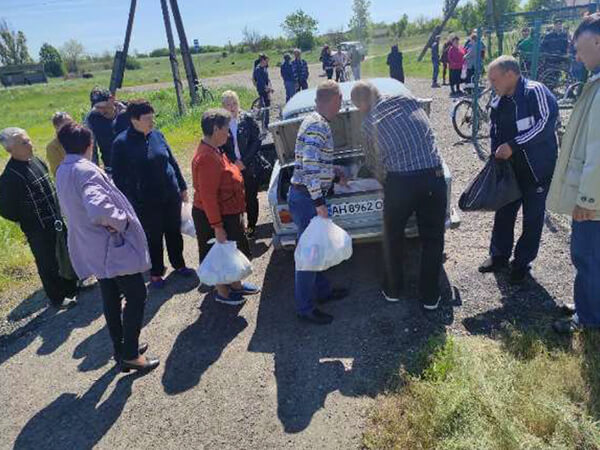 Visiting a city in need
Occasionally, Pastor Myroslav has visited his former hometown since the war began. Not only was he born in this long-suffering city, but this is the formative place in which he felt called to be a minister. He later moved away, but after the war began, Myroslav has continually been drawn back, greatly concerned for those in need.
This pastor regularly returns to deliver aid to local churches. He said, "There is no electricity, water, communications, or medicine. Constant food shortages. Shells fly and destroy houses. The dead are buried in the yards in mass graves."
People left behind in this region stayed for various regions. And they try to survive. A few evangelical believers continue to serve others despite what they lack, sharing water and food, repairing damaged buildings, and supporting the discouraged with kind words and prayer.
"Remember them in your prayers," says Pastor Myroslav.
Listening and making friends helps 120 people every day
In total, almost 120,000 refugees have passed through one little town since the beginning of the war. One local church serves upwards of 120 people every day who come to the church to receive humanitarian aid. Local church members befriend these refugees, getting to know them by listening to their stories of suffering, and respond by telling them about God's love and hope.
Distributing water from a well next to the Church
In April, due to intense shelling, a water pipeline was damaged in one city in Ukraine, leaving the people without centralized water. Concerned by the issues this could cause for the locals, church members began delivering free water around the city. Soon after, members from this church drilled a well on church property.
"We are very grateful that our brothers and sisters, and various caring people, made sure that there was a well next to the church," says Viktor, a local presbyter.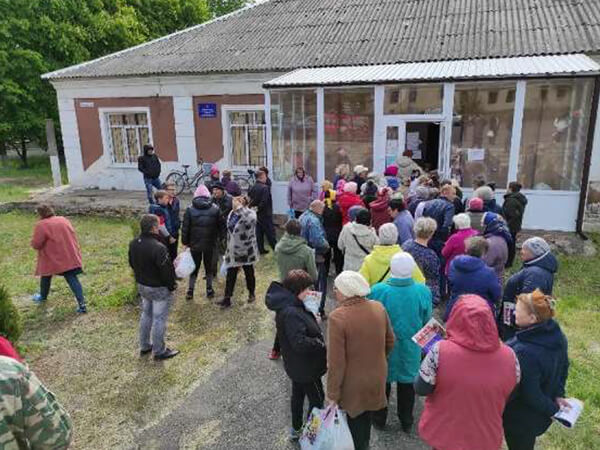 In a time of great uncertainty, God is bringing help, healing, and hope to the people of Ukraine through SGA-supported pastors, churches, a seminary, and SGA-sponsored Compassion Ministry. Be a part of God's incredible work with your generosity and prayer support.
Your gift of compassion helps struggling people with emergency aid that generally includes Scripture materials, food, medicine, warm clothing, and shoes.