Your Support of Immanuel's Child Has Year-Round Impact
Maksim is seven years old. Last year, he received a gift provided through SGA partners through Immanuel's Child at Christmas. He and his mother Olga were a family without a father, as Olga had left the father two years ago. Maksim was very fond of his dad and missed him badly, and this began being reflected in his behavior. He began his first year of school last September, and quickly became the talk of his class for his temper fits and gloomy attitude.
Olga herself was suffering and lost after a breakup with her boyfriend and was looking for new friends. The mother of a girl in Maksim's class invited Olga and Maksim to a birthday party around Christmas. At the party, Olga met several God-loving people and had many questions for them.
So she enrolled Maksim in the Sunday school of the New Moscow Bible Church, while she herself began attending an adult Sunday school class at the same church!
The church held an Immanuel's Child Christmas outreach. Maksim was there and received his gift bag. First, he ate the candy from the bag, then began to read the enclosed book about Jesus. Maksim's grandmother visited the family a month later to find him sharing the Gospel with her, having a childlike fervor. She was wary at first at the new teaching about this Jesus of whom she had never heard. Yet she went back home to her town knowing much more about the God of the Bible than ever.
An Unexpected Young Mission for a Child
Then Maksim's story took a surprising twist—but not surprising to God.
When summer came and the coronavirus pandemic shut normal life down, Maksim was sent to his father in faraway Kirov, which was halfway to Siberia. His dad worked during the day and drank every night, yet Maksim was very happy to see him at last. Maksim's father didn't receive his son's talks about Jesus well. They annoyed him. Undaunted, Maksim began inviting his friends from the street over for a cup of tea, and together they perused the children's Bible and the book he got from the Immanuel's Child event. The friends liked the message! It sparked many, and deep, conversations.
As this story was being written, the plan was for Maksim to attend a church children's camp with a local Baptist church where his mother had enrolled him. His grandmother will take him there every morning, and he will meet more Christian friends with whom he can talk.
Preparing to Reach More This Christmas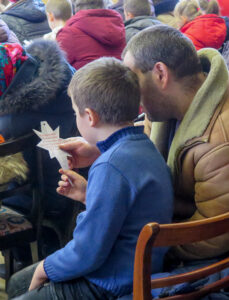 This wonderful testimony, shared with us by SGA-sponsored missionary pastor Vlad Treskin, is a vivid reminder of how your support of Immanuel's Child does far more than impact children and their families at Christmas. The Gospel seeds planted, coupled with the loving care and witness of the churches and children's workers, continue to bear fruit all year long. While the COVID-19 pandemic continues to impact lives across Russia and her neighboring countries, the churches plan to push forward, reaching more children than ever—we are asking God for 50,000! But the new interest in communities stirred by the Christ Over COVID campaign has opened that wide a door!
Churches will innovate and be flexible in how they will distribute gifts and share the Gospel with needy children and their families this Christmas. Many will plan events. Others will go door to door. God's Spirit will be in every outreach. Please pray for God's continued provision for this vitally important outreach, and that we will be able to reach even more needy children and their families with the Gospel. Join us in also praying for Maksim and his family, and to bring God much glory through their lives!