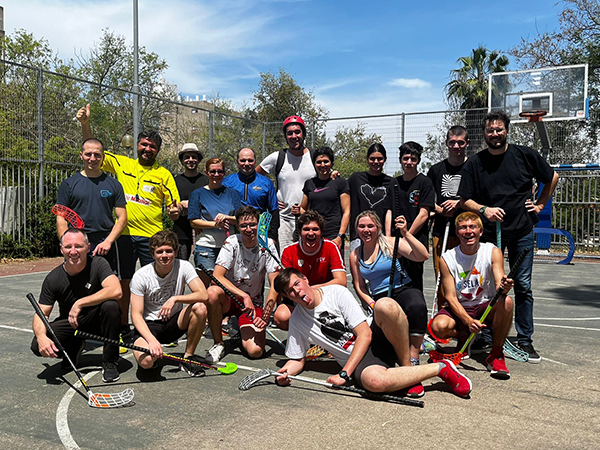 God's plans, purposes, pathways and providence are demonstrated in the story below. SGA team member Angelina shares with us the testimony of Pavel, an SGA-supported missionary pastor whose church started as a Bible study in his family's apartment, and continues to grow today.
God led him down a unique path to bring him to the point of salvation, and ministry to the glory of God. Pavel went from pride and sin to joy and lightness, as he dedicated his life to serving the Lord. He shares below, "It is not always easy, but we are sure that it is important to develop Christianity in Israel." Read more from Pavel's testimony . . .
"I am 42 years old. I was born and raised in Siberia. I grew up in a secular family, although there were echoes of Orthodox culture. And starting from childhood, I prayed every day in the Old Slavonic language, and in simple words in modern language. I asked God the Father, the Son, and the Holy Spirit for forgiveness. I prayed several thousand times while leading the life of an unbeliever. I was 10 years old when the Soviet Union fell, and there was a lot of crime during that time. I became interested in martial arts in order to be able to protect myself and my loved ones. Subsequently, I applied my skills not only in the gym but also on the street. You could say I was a bully.  Later, I graduated from the university and became an engineer. I got a job in a trading company. There I met with believing evangelists. They turned out to be former prisoners and drug addicts. I was surprised. They led a pure life. They worked honestly. They had families, order in life, no swear words. It impressed me. They told me about Christ, and I argued with them and was asking theological questions. Pride did not let me repent. I continued to pray at home and live the life of an unbeliever in secret. A year after meeting believers, when I was 24 years old, I visited an evangelical church for the first time. I began to read the Bible with a home group. After a couple of months, I repented at home. There was joy and lightness. I realized that God forgave my sins, and I wanted to dedicate my life to Him. I served in the sports ministry as a volunteer coach. There were martial arts classes and Bible study during our trainings. I helped other Christians to open sports clubs with Bible studies.

I got married in Ukraine, then my wife and I decided to live in Russia. My wife's name is Natalia. We have three children. Two were born in Russia, the third child was born in Israel. After graduating from a Bible College, a few years later I received an invitation to leave my job at the enterprise and become an acting pastor, and the coordinator of Gospel ministry in our church. I was asked to help develop evangelism for 20 leaders of various evangelism ministries. In parallel with the fact that I began to serve in the ministry of the Gospel, I began to pray about whether it is God's will for our family to move to Israel in order to serve God there. My grandfather was Jewish. He was exiled from Latvia in 1940 to a colony settlement in Siberia when he was 12 years old, because his father had a shop. Terrible. But it saved his life. In 1941, the Nazis came to Latvia and killed all the Jews. Through prison, God saved him. Thus, our family ended up in Siberia. And I knew that I had Jewish roots. The Providence of God was that the documents for repatriation to Israel were always in the nightstand. But my mother was told that they were not enough for repatriation. Therefore, I did not repatriate at a young age. God planned that I found out that I was eligible for repatriation and these documents were enough, and were ready when I was already a minister, was married, and had children. God prepared everything in His time.

Today we live in Israel. We have been here for eight years. I am one of the founders of an evangelical church and engaged in a pastoral ministry. As volunteers, we participate in the development of the church. We hope the church grows spiritually and quantitatively. We help new repatriates to join the service of believers. And whenever possible, we try to share our faith with our new acquaintances. It is not always easy, but we are sure that it is important to share the Gospel in Israel. There is a great need here. The harvest is plentiful, but the laborers are few. We hope God will work through our church.