The situation in Ukraine's Kherson region has become more dire. The water is undrinkable, and disease is soon to follow. Relief workers are being shelled, including SGA-supported Pastor Dima and his team. Yet SGA-supported humanitarian aid—provided by generous partners like you—is making its way to those in need and the Gospel is going forward. Each day, people are finding hope when it seems all hope has been lost. Here are pictures that will move your heart . . .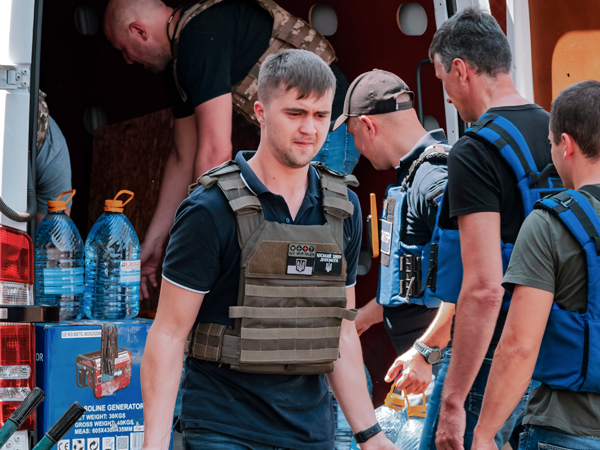 Here is a short update form Dima . . .
Yesterday we were in Kherson. We took 200 hygiene kits, 500 first-aid kits, 600 bottles of clean drinking water . . . It so happened that the church we were in was shelled, and people took shelter in their homes. We had to load everything into two cars. Two cars were hidden in the church area in the center, and we went to the Ostrov area. It was flooded and no one could go there; the military and rescue personnel guided us there. The water was more than nine feet deep there . . .

There were a lot of people there. We had to give one food pack per family. Water was given in three bottles per person. In the beginning, as always, we told them the word of hope. I saw how they calmed down a little. We brought them new covenants and promised to come again. The instruments were left in the church there on that area of the Island. After the distribution, the shooting started. One lifeguard from DSNS and two women were wounded. We had to leave quickly. As for the situation: The water is leaving. It smells awful. All the feces are floating in the street, basements are flooded and there is no drinking water. It is very hot. I think that soon there will be outbreaks of all kinds of epidemics.

As for the situation in Zaporizhzhya: The counteroffensive is very slow, not the way we all might have wanted. The [opposition forces] are very well fortified, and it is very difficult to get them. Last night they shelled Zaporizhzhya again heavily with C300 rockets—11 rockets, again causing panic. As for the nuclear power plant, the situation is critical. The water is gone, and the level in the reactors has dropped for cooling. The invaders have mined the plant, as they did with the Kakhovka dam. In general we pray that they have not done mean things for Ukraine again.

Thank you for your help and for your prayers.
---
In a time of great uncertainty, God is bringing help, healing, and hope to the people of Ukraine through SGA-supported pastors, churches, a seminary, and SGA-sponsored Compassion Ministry. Be a part of God's incredible work with your generosity and prayer support.
Your gift of compassion helps struggling people with emergency aid that generally includes Scripture materials, food, medicine, warm clothing, and shoes.