For whatever was written in earlier times was written
for our instruction, so that through perseverance and the encouragement
of the Scriptures we might have hope (Romans 15:4).
Last spring, SGA's Eric Mock visited Zaporozhye, Ukraine, to encourage refugees from the ongoing conflict in eastern Ukraine. He also spent time with faithful SGA-sponsored pastors and missionaries who are ministering to these suffering people. SGA provided Bibles and Russian copies of John Blanchard's books, Where is God When Things Go Wrong and Ultimate Questions. They clearly explain the Gospel—providing an anchor of truth and hope for those who are destitute. In a separate trip, Eric and two U.S. pastors helped train Ukrainian pastors in biblical counseling to help them minister to the refugees. They distributed Trusting God: Even When Life Hurts by Jerry Bridges. We praise God for these opportunities to serve churches and meet their needs while also helping them reach their people for Christ.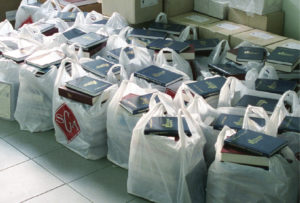 Be a Part of God's
Life-Changing Work