Peace Remains Elusive in Ukraine's East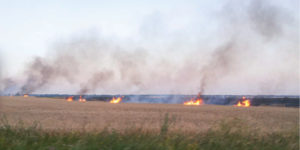 Although little is mentioned by the news media, eastern Ukraine continues to endure horrendous fighting between Russian separatists and Ukrainian government troops. The Organization for Security and Cooperation in Europe (OSCE) said a battle near Avdiivka in January caused large numbers of casualties and a humanitarian crisis for 17,000 people. The OSCE called for a recommitment to the cease-fire reached during talks in Minsk, Belarus, and to allow repairs for critical infrastructure. 
This ongoing tragedy underscores the need for continuing ministry through SGA's Crisis Evangelism Fund, which enables churches to distribute much-needed humanitarian aid including food, along with evangelistic literature. Pray for the missionary pastors serving in this region, as the danger is very high, and for the families receiving aid to be open to the Gospel. Pray also for peace to come at last after several years of bloodshed.