Editor's Note: The reports and images below were provided by SGA-supported churches in Russia.
God is working through several SGA-supported churches in Novosibirsk. Faithful brothers and sisters in Christ continue to reach individuals and families in need of food, medicine, and hygiene basics . . . as well as the Gospel message of Jesus Christ.
Please pray for the people you read about in these reports from earlier this spring. May God be glorified through each bag of emergency supplies distributed and every opportunity to share the Good News of salvation with hurting people in need of hope. See how SGA-sponsored Compassion Ministry is opening doors in Russia, while the Lord is opening hearts . . .
Dear brothers and sisters,

Greetings to you all! Thank you so much for your part in the work of helping the needy and the opportunity to do evangelism and at that showing the love of Jesus Christ to people. I want to tell you about a family with multiple children who are being provided for by one grandfather. His name is Kasym and he is a Tatar, a former sportsman. He lives in our neighborhood, not far from the location where we hold our worship services.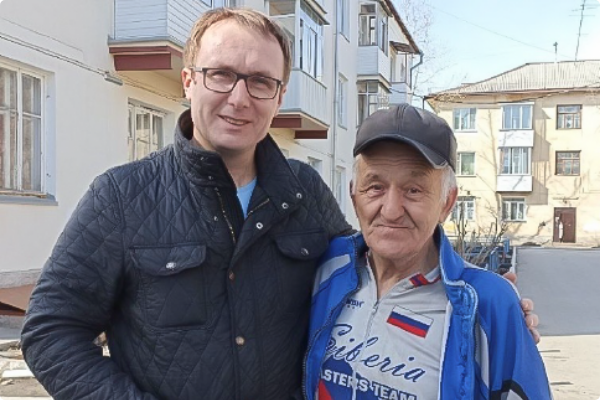 The son of Kasym, Ruslan, and his wife Agnessa are drug addicts. They have three little children. Kasym receives pension, and he also works in shifts as a watchman. His whole income he uses to provide for the family of six. Kasym loves his grandchildren very much, and often scolds his son and his wife. I have known this family for a while and now with your help I support them with food packages. Kasym reads the Bible I gave him in the Tatar and we speak on religious topics. Please pray that he will have questions and that he will receive answers to them from God. Pray that the Lord would touch his heart and that he would turn to the Savior. Pray that Ruslan and Agnessa would agree to go to a rehab center and also would turn to the Lord. Pray that small children could come to our Sunday school and also learn about the Lord.
Rassvet (Dawn) Church
We visited two Muslim homes. In one home they laid a table for us. We conversed some with them and had a small program for children. We spoke about Easter, the true meaning of this holiday, and shared the Gospel message with them. Everybody listened with great interest. They invited us to come again.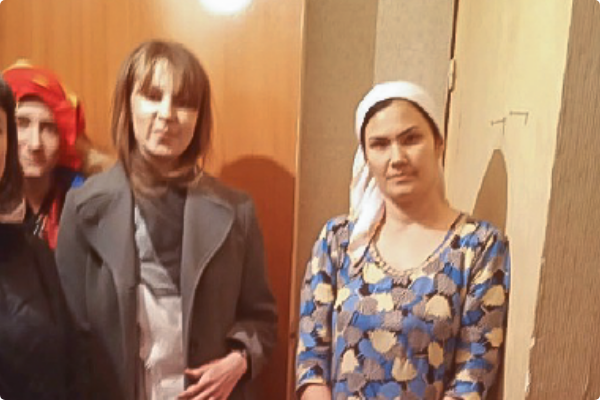 We also visited a family with eight children. After our last visit children already spent some time in a shelter (kind of an orphanage) because their mother left to buy a house and took them there for a time. We didn't even imagine that it was God's plan. When learned that children were there, we were very sad. However, there are no accidents with God. We went to the shelter and got acquainted with its administration, and now we have started a ministry to children in it.
We visited a family with three children. It was surprising that the children recited a poem to us about Christ. Their mother used to go with them to a Catholic church. However, sin does not let them come to God. They listen very attentively to what we tell them, agree with us, but they are still there. We pray that the Lord would open their hearts.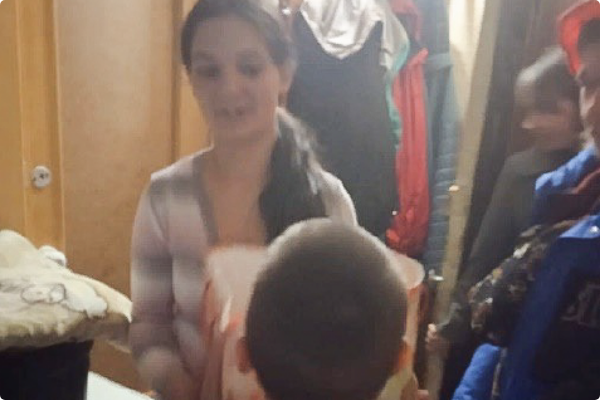 Another visit we made was to a mother who gave birth to her fifth child. We gave food and clothes for children. We have also spoken with her about God. She receives our words but it is difficult for her to break forth. They live in a village, her husband is drinking, and her mother does not want to associate with her. We are planning to continue our visits to them.
Spasenie (Salvation) church
We have been ministering a few families for a long time, and we also get new opportunities which we strive to make use of for God's glory! Thank you for your help, and we are glad to share what God has been doing!
Lyuda and Pasha Makshanovy
We continue to serve this family by regularly helping them with various needs and sharing Christ with them. Before the New Year they were rather active in terms of church life. They regularly attended church services and our small group meetings, however during the New Year celebrations they yielded to temptation. They had guests and for a few days they drank alcohol with them. Then Lyuda and Pasha felt shame, and for a whole month they avoided fellowship with us. We prayed for them and tried to get in touch with them. The Lord answered.
Lyuda and Pasha have disabilities and Pasha has some serious diseases and so does their son Pavlik. Problems and illnesses came spilling out on them. They experienced fear before God and felt they needed Him. Lyuda was first to call and she asked us to come. Then Pasha also called us. We visited them and spoke much about God. Finally, they repented and our fellowship was restored. We are reading the Bible with them in their home and Pasha comes to our group meetings and church services every now and then. Lyuda is still ill, however she eagerly awaits our Bible studies with them.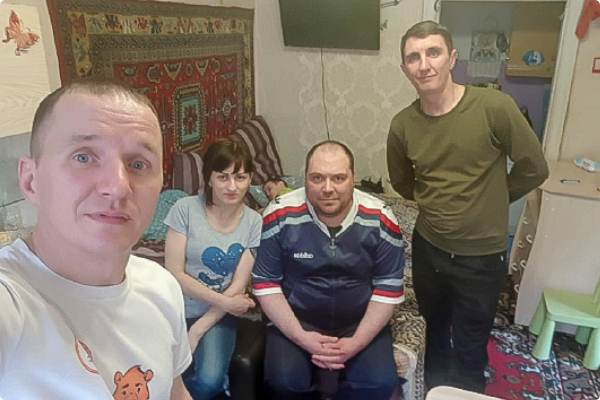 Ira and Alexei
Things have gotten much worse with Ira and Alexei. We used to regularly study the Bible with them. Ira showed strong interest and she repented and trusted Christ. Her husband Alexei, on the contrary, was indifferent. Sometime later Ira told us that he got addicted to drugs and later he started to sell them, left home and she was left with three children. We helped her us much as we were able to in this situation.
We tried several times to speak with Alexsei and bring him to reason however he would not listen to us. Ira was not able to come to church or our group meetings because she had no one who would babysit her children. But she was always glad to receive us in her home for fellowship on spiritual matters. Recently Alexsei was arrested. He was caught with drugs, and the lawyer said he would be sentenced to 10 years of prison. He has been trying to pressure Ira constantly and demanding things from her. She is crying and feeling distressed. The hopes that he would return are broken and she does not know how to live on. We help her in everything. It is good that there is the Lord and the church. It is good that we can show Christ to Ira at this difficult time for her.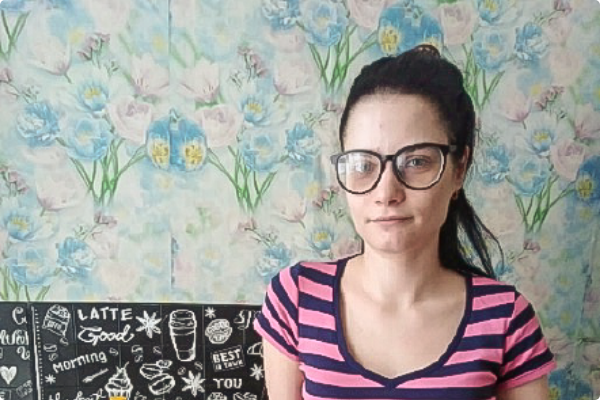 Nina
We have been ministering to Nina for a long time. She has read the New Testament and over a half of the Old Testament. Nina has many struggles so she starts speaking about repentance more often. It is clear that God has been working strongly with her. Nina recently gave birth to a second daughter. Now she is a single mother with two children and she is a having a very difficult time. Her cohabitee kicked her out of home because she was reading the Bible and showing him his unrighteous lifestyle. So, she recently lived with her mother and the story repeated with her as well. Her mother likes to drink and spend time with men, so having changed in her view of life Nina wanted to influence her mother and they would often quarrel because of Nina reproving her mother. When Nina gave birth, it became evident that she would not be able to live with her mother, so we rented an apartment for her and we help her with food and money from our church. Every week we read the Bible with her. Nina is even trying to share the Gospel. She recently gave a copy of the Bible to her grandfather and aunt. They call each other on the phone and discuss what they are reading. We trust that the Lord will soon bring her to repentance!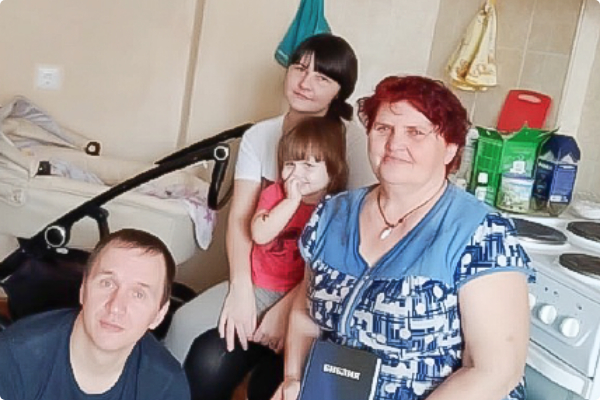 Aliona and Diana
We continue to help Aliona who came to Christ while in prison. Aliona is faithful in following the Lord and she has been involved in evangelism ministry and church life. She is currently taking a membership class and preparing for baptism. Aliona also shares the Gospel with her multiple relatives and acquaintances. Some of them visited the church a few times, and one of her acquaintances, Vladimir, regularly visits the group meetings and church services and wants to repent. Vladimir serves in the army and he was in hot zones more than once and saw much and he is thankful to Aliona that she helped him to come close to God and the church.
Recently Aliona lost her mother and we all helped her both materially and emotionally. Praise be to God for everything!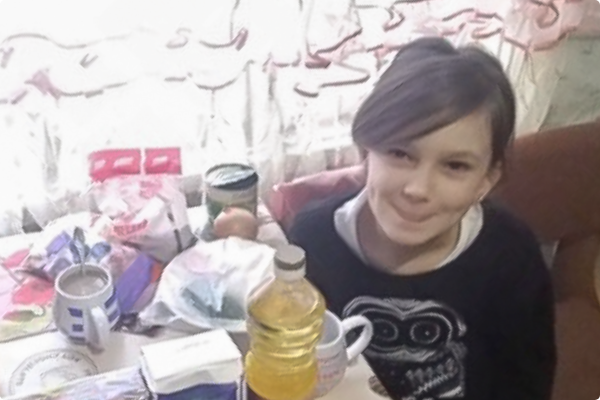 Masha and Sergei and two more children
Luda M. led us to meet this family and we started to help them. There are three children and one of them has ICP. Lyuda visited this family as she did massage for the child and she was startled by the conditions in which the children lived. Their mother Masha has a psychological disease and the kids are dirty and hungry. When Lyuda told us about them, our sisters went and washed everything in their apartment, brought them goodies, groceries and clothes for children. We started to help this family, let know the social services and have been visiting them regularly. It is interesting that Masha speaks eagerly about God and prays but it doesn't work out for her to read the Bible and come to church so far.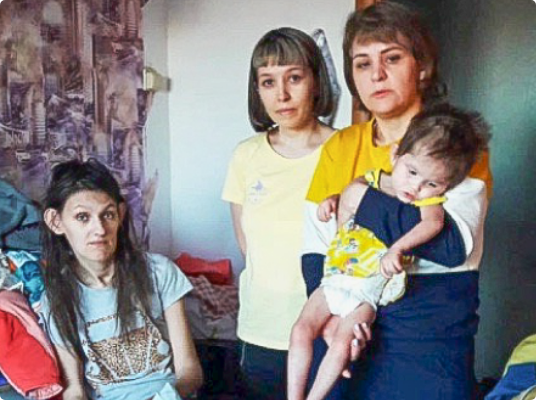 Kostya and Veronica
They are children from a problem family where this is also a baby, and their parents are drinking and do nothing. They are neighbors of our brother Alexander N. who became a believer while in prison. After he was released from prison he started to actively reach out in his neighborhood. The father of these children, an old friend of Alexander, does not want to hear anything about God but he doesn't mind his children coming to church because he saw the radical changes the Lord made in Alexander. For 6 months Alexander has been taking these kids to church where they participate in all events and they like it a lot. We have started to help this family materially and their hearts responded. The parents agreed to an Easter service, and we hope that God will touch their hearts as well!
The church in Biyka
Dear brothers and sisters, we heartily thank God and you for your help to our fellow villagers. We continue to visit different homes and we share the good news about Christ with each individual hoping that we will be able to develop relations with them. Please pray for wisdom in conversations and for those whom we try to reach with the Gospel. May all glory be to God! We have a few testimonies.
• Aleksandra lives in Turochak. She has a husband and four school-age daughters. They are unemployed and both of the parents are drinking. Aleksandra visited our services a few times. She wants to leave her sin behind and come to God, but at the present moment she is not able to stop. We regularly meet with her, speak with her and through humanitarian aid we want to show more care and love.
• Nina lives in Biyka, and she is a pensioner. She used to go to a church. When they left, she also moved away from God. Until recently she would not receive us because we are from a different denomination. We decided to help her so as to establish relations, and become friends for further communication. Nina has a daughter, Darya, she is married and has two sons. As a child Darya came to church with her mother but then stopped coming. They live poorly and drink. We want to help this family and become friends with them.
• Nastya is a mother of multiple children and she is also a teacher at school. Her husband is a worker in the forest. Some time ago OM students came to Biyka and Nastya welcomed them; they stayed in her home. Then she stopped communicating with them. They are trying to restore the old-time relations and help this family.
• Oksana and Alexander are both disabled because they drank all of their life and acquired diseases. We shared Christ with them many times and we are now friends however the opinion of other people is more important for them than that of God. We continue to hold in with them and help them with groceries hoping that through this they would see God's love for them.