Editor's Note: The images below were provided by an SGA-supported church and pastor.
As the war in Ukraine continues, your support gives hope to those who've lost everything. In the account below delivered from an SGA-supported pastor, one Ukrainian Christian couple describe holding onto their faith when there was nothing else to hold on to. For Christians who have lost home, health, food, and family members, thank God they can still hold onto the church! Thanks to your generous support, these refugees have a place to turn to for humanitarian aid, encouragement, prayer, worship, community, and hope.
Pavel (47 years old), Oksana (44 years old), and their 6 children,
            Before the war, one Ukrainian family all attended a small Baptist church together and served the Lord there. Oksana sang Christian songs, and Paul read aloud from the book of Psalms at the beginning of each church service. Pavel says that shortly before the war, they started their own business, which was going very well. But February 24th came, and the life of the family changed dramatically.
            Pavel says: "Around 5 or 6 p.m., our village suffered terrible artillery fire. One of the neighboring houses was almost destroyed. It was my parents' house where I grew up. We saw a lot of destruction following those first attacks. There was a dead man in one of the houses, and his wife was wounded. It became hard to live in our village: there was no work, no food, and no medicine."
            Pavel tells us that the Christians from their village church, despite the war and occupation, always gathered together in houses of believers for prayer and service. All the brothers and sisters from the church supported one another, studying the Holy Scripture together. They all lived in the spirit of unity. Many of them decided to stay. Everyone had different reasons for making such a decision.
             "Together with our children, we kept serving God and trusting Him in our house. We hid in the basement of the house during the shelling. While we were in the basement, we read the Bible, prayed, and sang songs. The Lord continued to sustain our faith, and He gave us and our children His peace."
            Pavel says they had trouble getting food, diapers, fuel, and medicine. They found themselves in complete isolation. For three weeks there was no supply of food or medicine! Then, food prices rose sharply. The family had to look for food all over the area. Volunteers brought almost nothing to the village at that time.
            Because of the children and the surrounding tense situation in general, Pavel and Oksana decided to leave. On April 16, their family left their village in the minivan of a transport company. The minivan was completely packed. People sat on their bags in the aisle. They rode the minivan for five hours on various dirt roads going between fields. The driver constantly had to maneuver between minefields.
            Pavel testifies, "The minibus driver, who had taken people out this way before, was surprised and said that it was just the grace of God that we didn't come under any shelling on our way and very quickly reached our destination.
            "We arrived in another village on April 16," Pavel continues, "and the driver took us to a Baptist church. It was already half destroyed and there were no windows. My family and I lived in its bomb shelter for four days. The church had a large volunteer relief center. Church members supported refugees in transit and others in the city. The believers kept feeding people in the church and hiding them in their bomb shelter.
            "When we made it to Romania, we were met by Christian volunteers who put us up in a local church. We lived in the church for seven days. They provided us with everything we needed: clothes, medicine, backpacks, and suitcases."
            Oksana continues her husband's story, "Then we finally went to Poland. God blessed our family all the time on our journey, which was almost free of charge for us. It took us 20 days to get out of Ukraine! And everywhere we were met by God's children from various churches. They showed us their love, care, and gave us shelter. We relied solely on God along the way, we did not know the languages of all those countries, and we did not have a SIM card (cell phone service). But we knew that God was guiding us on our way and as a caring Father would not leave us. And He indeed was always with us. He brought us to our destination, fully covering all of our needs. We continue to go to church and trust and serve Him. Amen!"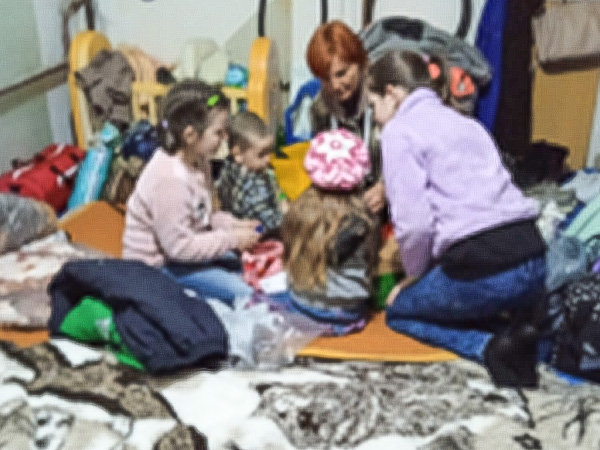 In a time of great uncertainty, God is bringing help, healing, and hope to the people of Ukraine through SGA-supported pastors, churches, a seminary, and SGA-sponsored Compassion Ministry. Be a part of God's incredible work with your generosity and prayer support.
Your gift of compassion helps struggling people with emergency aid that generally includes Scripture materials, food, medicine, warm clothing, and shoes.