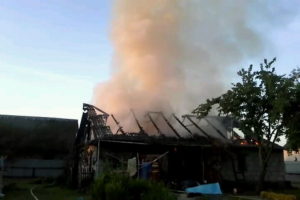 I am Pastor Alexander in Belarus. During June, we hold a tent camp. This year—as in every year—we were getting ready and praying about it. Then the unexpected happened. The sauna, barn, and garage burned down late in the evening, and the next morning we were supposed to set up the camp. All the camp equipment was stored in the garage including sleeping bags, mattresses, tents, an electric generator, and a trampoline. We managed to save only 15 sleeping bags out of 104 tents.
Maryna asked me if we would still have the camp and I responded in the negative. Nevertheless, the Lord had other plans in mind. On the second day after I had coped with the initial shock, I felt worn out. I was looking for an answer from the Lord about what needed to be done. All the kids knew the camp was coming. When they called me, I was not able to tell them that we would not have any camp. I asked them to call me later. Our team discussed what we should do. I thank the Lord for the moment when everybody was free to express his or her opinion. In all of this, I realized what needed to be done. Everybody agreed that we should have the camp even in spite of the big loss. We prayed and got on the phone to ask everybody we knew to give us at least sleeping bags and tents.
The Lord always provides more than we ask for. I thank the Lord for all the brothers and sisters who stretched out their helping hands. I thank God for Peter Konstantinovich (director of SGA's Minsk Regional Ministry Center) in particular, since he and his sons brought some ground cloths, a trampoline, and other equipment. I thank the Lord that he led us out of our trial. In spite of our big loss, we fulfilled God's will, so that children and teenagers could come to our camp and hear the Good News about our Lord. We had 75 kids at children's camp. The teenage camp had 40 people. Praise the Lord for everything He sends us in life!