Partners in the Gospel,
I am writing to let you know that SGA's former board chairman and director emeritus Evon Hedley went to be with the Lord on February 26. He was 102 years old. Evon leaves behind a wonderful, faithful legacy of service to Christ and commitment to the Gospel.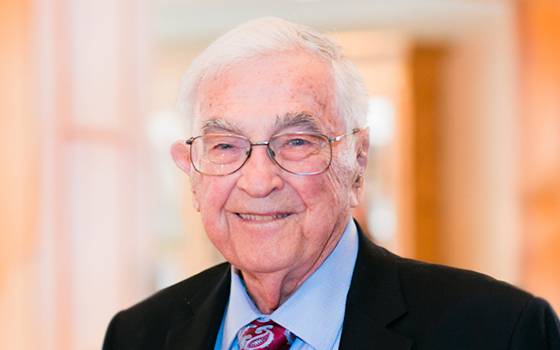 Evon's family released the following statement after Evon's homegoing . . .
On a beautiful sunny morning, February 26, Evon Hedley slipped peacefully into Heaven to meet his Lord and Savior, and rejoin so many who've gone before him. Two years ago, as his centennial birthday was approaching, we realized that it would be a wonderful opportunity to really celebrate his life while he was still with us. It turned out to be a fantastic decision as friends, family, and ministry colleagues spanning many decades joined us to celebrate Evon Hedley. He cherished you all and we want you to know how grateful we are for the part you played in his life.
Evon Hedley served on SGA's board of directors from 1967 to 1993, with nine of those years as our chairman. Evon lived to see God bring an end to 70 years of atheistic Soviet communism, and open the door for unprecedented Gospel advance across Russia and her neighboring countries. Evon was with Rev. Billy Graham at the beginning of Youth for Christ in 1944—serving as executive director—and SGA founder Peter Deyneka would be leading prayer at Rev. Graham's first crusades in Los Angeles, then later across Europe. What a remarkable chain of grace, and what a tremendous legacy of service for the glory of Christ!
According to Evon's family, a private memorial gathering will be held later in the spring. If anyone would like to honor his memory, gifts can be made to SGA, a charity of your choice, or four other ministries that Evon supported—Youth for Christ International, World Vision International, Christian Business Men's Committee International, and Lake Avenue Church. Please join us in prayer for Evon's family during this difficult time, even as we rejoice with thanksgiving for how God used this gentle, humble man to help reach generations with the Gospel. Thank you in advance.
For our Savior,
Michael Johnson