Earlier this summer, we received word from Lesia, the wife of Anatoly, an SGA-supported pastor in Ukraine. Anatoly was in great pain from his left hip joint.
The family has 14 children and could not afford to pay for the expensive surgery needed to correct the deterioration in Anatoly's hip. But thanks to the generosity of friends like you who faithfully give to support the needs of SGA-sponsored pastors, Anatoly received the emergency medical treatment he needed to help him walk again . . . care for his family . . . and shepherd his congregation.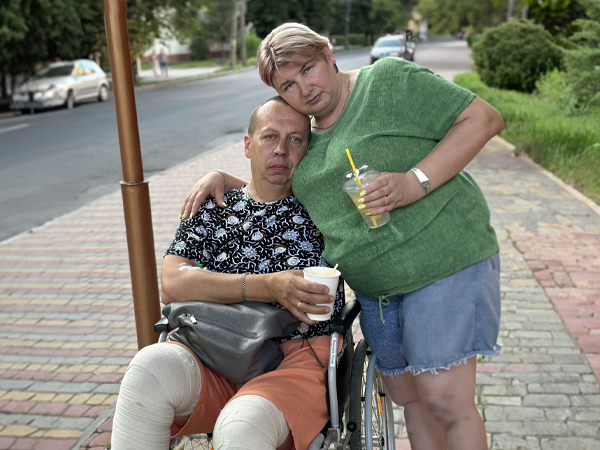 Here is an update from Lesia. Be encouraged by her heartfelt words below . . .
On behalf of our entire family, I sincerely thank you and your whole SGA mission for giving my husband a chance to live a normal, full life. We thank God for being so kind and merciful to us through you!

My husband had been in pain for a year, unable to walk, and we prayed that the Lord would find a someone with a good heart who could help financially for this the surgery. The Lord sent you to us and used you in this great ministry! You brought joy not only to my husband, but also to me and all our children. There are still three months of rehabilitation ahead, but the hardest and most difficult and expensive part is over. We have already been released from the hospital and are at home. Anatoly is gradually getting up and learning to walk on crutches or a walker. He still takes pills and injections. He needs a rehabilitation specialist, but we don't have one nearby, so we will try to train the leg ourselves. I also do the bandaging myself. The surgery was done on the left leg, but we bandage both to prevent blood clots.

I also thank God for my sister Lydia. She has a good heart, has been and is always in touch with us, supporting us in prayer. I am writing this letter to you from the bottom of my heart and with tears. I cannot find words of gratitude to the Lord and to you! I love you, I hug you! Thank you! Thank you! Thank you! I am asking for prayer support, because the second joint (right one) is also at the third stage of the disease. Therefore, we pray and ask God that this leg would work a little longer without surgery.

Everything is possible for God!!

In his Love,

Lesia and family
---
In a time of great uncertainty, God is bringing help, healing, and hope to the people of Ukraine through SGA-supported pastors, churches, a seminary, and SGA-sponsored Compassion Ministry. Be a part of God's incredible work with your generosity and prayer support.
Your gift of compassion helps struggling people with emergency aid that generally includes Scripture materials, food, medicine, warm clothing, and shoes.