The European Union recently announced that sanctions were being extended against Russia in connection with the ongoing Ukraine crisis. The EU first imposed sanctions after Russia annexed Crimea and supported separatist fighters in eastern Ukraine. The sanctions—which include travel restrictions and asset freezes against 150 people—will continue until at least September 15. Russian president Vladimir Putin stated that Crimea would never be returned to Ukraine. Russia has maintained a naval port there since tsarist times, and the late Soviet leader Nikita Khrushchev turned Crimea over to Ukraine in the 1950s. The peninsula has been a contentious issue for decades.
This report once again illustrates a "frozen crisis" that continues to impact the lives of millions even though it seldom makes the news here in North America. SGA continues to help evangelical churches reach out to war-ravaged individuals and families in eastern Ukraine with humanitarian aid and the Gospel. Please join us in praying for a peaceful resolution to this four-year-old conflict, as well as the financial resources needed for outreach.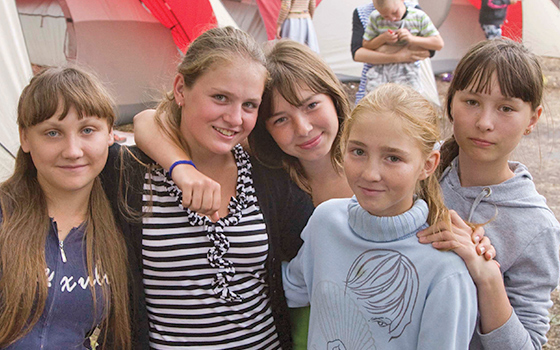 HOW YOU CAN HELP 
As you read this, SGA's Summer Bible Camps are about to get underway! Think of it: More than 340 Bible-training camps for children . . . sprawled across 10 nations of a former atheist region of the world!
We are praying for 30,000 boys and girls this year. Most of each year's campers are not believers—but God brings thousands to Christ every year. And SGA training means that these new believers will have sound churches in their communities.
At the same time, SGA is supporting missionary pastors in regions where they can't get jobs. Churches are planted and grow due to your support. And as you read in this issue, your gifts also provide Orphans Reborn outreach, biblical drug rehab, and much more.