Not long ago, we received a wonderful report from Dr. Levan, an SGA-sponsored missionary pastor and practicing medical doctor in the former Soviet country of Georgia. In just a few short sentences, he vividly illustrates how your prayers and faithful support are not only helping the forgotten, but also opening doors for powerful Gospel ministry . . .
Help rendered just in time,
and in the glorious name of
our Lord Jesus Christ!
We help needy individuals and families with all sorts of assistance. So many are unable to purchase medicines, pay the electric bill, or to afford even basic food items. Poverty has more than doubled in Georgia according to the UN, and I encounter it personally more and more frequently.

Two families in particular had their power turned off for failure to pay. One family was a refugee family from Abkazia—a mother with two children. The other was a neighbor woman with four grandchildren and a daughter-in-law whose paycheck has been held up for two months. She had no water and no way to cook food as the gas had been turned off as well. We prepared four food packages containing things like flour, cooking oil, sugar, and beans, then headed out to distribute the packages.

When we arrived at the home of the latter family with the food, the woman wept and said: "God Himself sent you to me!" She only had her last crust of bread left and nothing else. She was in a panic and didn't know what else to do. The money you have allotted to assist these families and to support the ministry in our region has been a tremendous help.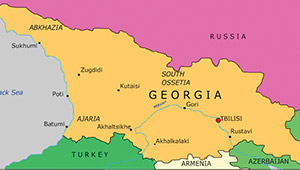 Help rendered just in time, and in the glorious name of our Lord Jesus Christ! Outreaches such as this help open doors for sharing the Gospel as God's love is demonstrated in a tangible way. And you—our faithful partners—helped make it possible. We can never thank you enough!