Here is a report from SGA team member Lydia who is on the ground in Ukraine. After 500 days of war, help and hope are still needed where the people continue to suffer. Praise God for His provision as you read, and please continue to lift up Ukrainians in great need.
---
I am grateful to the Lord that I was able to go to a hard-hit city in Ukraine and be there when the cargo was unloaded. This is always a joyful moment and the time when you see pastors or ministers from different churches of the region come together to ensure that all the help of food aid that comes and is going to be distributed among these churches, distributed to all those in need. On this trip, I've met faithful brothers led by an SGA-supported senior pastor named Oleg.
The city I visited is a beautiful, quiet city. It is located between the two largest cities of Ukraine, Kyiv and Kharkiv. People call this city the "spiritual capital of Ukraine" because it was the place where the new Ukrainian literary language was born. It was also very interesting to learn this. There are five Baptist churches, and each of these churches serves the needy, the displaced, the poor, all those who need attention, love, care, and help.
Regional pastor Oleg shared his experience and blessings about the ministry of churches during the war. We saw and understood: God loves and blesses His faithful children! Churches in this city and those ministers who remain in the ministry fields are faithfully carrying out their ministry, and God is blessing them in a special way!
Here is a message from Oleg:
I would like to express my sincere greetings to SGA and all the staff, and thank you for your tremendous help we have been receiving over the past 16 months.In fact, I would like to say that my personal life is connected to this mission, because I am a graduate of Irpen Biblical Seminary (which SGA supports). The first theological books, the first professors who taught me, mentored me, formed me, they were all representatives of SGA at that time. Therefore, I have the best memories, the best moments, the most valuable tools that I took and used. 

Thank you for being the first to lend a shoulder and a helping hand in this difficult time for our country! Today, we have received another food shipment.Currently, aid is not coming as often as it used to, but for our region, such help is extremely necessary, because there are still many, many people who need this help. From the first day of the full-scale war, our regional association faced the front line, and a lot of people from Kharkiv started coming to us. Statistically speaking, our city has the most people who fled Kharkiv. We have 270,000 people, and Kharkiv has more than one million people. Mostly, people came to us from Kharkiv or its region, from small towns. They stayed here and waited to see what would happen next. Maybe the war would end quickly and they would return back home, or maybe they would stay here for a while and then move further. But our city has become such a foothold. That's why our city has received a lot of Kharkiv residents.

So what were we doing, our churches here? We hosted a lot of people, where it was possible and impossible. We fed them all, there were evacuation trains, we brought them food, water, medicine. For the first three months, we served people at train stations, we lived with them there. We also served by sending medicines to Kharkiv by mail, because pharmacies were no longer operating and people had no way to buy medicines anywhere. In the first months of the war, we were responding to all the needs of people: baby clothes, baby food, diapers, food, and sent all this by trucks. I can tell you a lot about how many miracles the Lord showed us in the midst of our ministry.

I remember one day from such a ministry. That day was unique. It was at the end of March last year. I received a phone call saying that there was a truck full of food that could not get to Kharkiv at that time, and they asked me to take the cargo. I agreed to accept it. Later that day, a brother from Kharkiv called me and asked for help because people were suffering from a lack of food and water. I told him that I had a full cargo and did not know what was in it, but I would send the whole cargo to Kharkiv. Another brother came along and agreed to deliver the cargo to Kharkiv. As it turned out later, that cargo contained everything that people in Kharkiv needed and asked for from the brother who was serving there. God really showed His miracles in those moments when human strength was exhausted.

Then there was the evacuation. Later, we realized that the time had come to tell people about the Lord, to tell them about the Gospel. In the first period, we had to warm them all up, feed them, organize some living conditions, and help them with medical treatment. In the second period, we realized that if one hand gives bread, the other hand holds the Word of God. We had to share the truth that we knew.About 25 percent of believers from our region moved abroad. This is a sensitive issue for us. These were almost all potential ministers, young families, people who were responsible for certain areas of ministry in the churches. That is, those whom we are missing so much moved abroad. But we understand everyone and know that there are no mistakes with the Lord.The churches in the villages, the situation there has not changed much. They have not suffered. Believers gather and serve as best they can. The churches in the cities have become significantly smaller during the war: there are fewer choir members and preachers, and young families have left. Some large families stayed here, did not leave, and it is good to see them continue ministering.

When the war started, we realized that we would lose a third of all church members from the region, for various reasons. Internally, we are beginning to accept this. But, as a large family of Christ, we have already felt and seen how donations in churches have dropped when many people fled. Expenses are growing because utility costs are rising. In a country during wartime, energy resources are getting more expensive. It is only summer so far. But God's mercy is everywhere; it is endless. We are surviving now, because of such aid sent by the SGA mission. I do not know how we would survive if it were not with your support!

Currently, we have changed our strategy a little bit from the one we had a year ago. We have now moved away from the practice when we had to give something to people every Sunday morning. Today, when it comes to material or food aid, we give people such help mostly once a month. But there are still people who come to be in the church and listen to the Word of God!We now have separate services for such people who do not yet understand the Gospel well, but who want to study it. The purpose of these meetings is to teach people to read the Word of God. To make and teach them to make their lives Christ-centered. We really want and pray that when our paths are parted one day, they will continue to follow Christ on their own. We don't know how our lives will go in the future, but if people have faith from the Word of God, their faith will be strong. We spoon-feed these people up to a certain point, and then we want them to be able to use the food or the Word of God properly.

There are many people interested in reading the Gospel. In our House of Prayer, we are holding another meeting where we read the Gospel according to its passage. Today we are reading Luke 16. We are reading text by text. I can say for myself that I have discovered the Gospel of Luke in a new way. It is a complete big story that has a very logical sequel, there are no random texts. I fell in love with this Gospel. It is something unique! So, I repeat, all these people come first of all to hear the Word of God. They even know that next Sunday we will not distribute food, but up to 80 unbelievers still come. After the service, we make tea, coffee, cookies, and have wonderful discussions. Many of them just don't want to go home.

First of all, we can imagine what a distant home it is for them. They all do not live in their own homes, and secondly, they say that this is the only place where they are so well welcomed. And we realize that there is no such thing as acceptance in the world! There are very few places where you can come and be welcomed. For IDPs [internally displaced persons], it is the most painful thing to be rejected! They used to have everything, absolutely everything! But grief and war made them flee.There are about ten churches in our region that are 100 percent involved in helping IDPs. All are church members, they serve on a high level, very dedicated teams! There are many IDPs who want to be baptized.The biggest challenge today and the difficulty we are facing is the 16 months of war. We are all tired of living in a country where there is a war. The people are exhausted. A person becomes older faster during a war because it is a strain on the nervous system when there is death, serious injuries, rockets, explosions and sirens all around. Many people cannot return to Ukraine because they cannot hear the sirens. Is it possible to get used to this? Subconsciously, such a tense condition simply destroys a person. It's very tiring.

Many elderly Christians say that they wish everything would end and their life is no longer a joy, that Christ would come. This is fatigue.

Our region is being shelled sometimes. In Kremenchuk, 50 people were killed in a mall last year as a result of a missile hit. We thank God that today our air defenses shoot down almost all the invaders' targets. When aggressor missiles fly, almost everything gets destroyed! How do people react to all the help they receive, which is provided by people who are absolutely strangers to them? I often explain to our IDPs where this help comes from. I tell them, you see all these food packages that we have prepared for you? When you take these food packages, you think about those poor people who live far away from you, far across the ocean, but they see and hear that there is a war in Ukraine. They know that there are people here who have lost their jobs and homes. And these poor people have some money, some small savings, but they made a decision to send these funds to buy food and to give you what you have received today. So remember that behind these products is someone's donation, someone's love, someone's care for you. And when you take it, realize that it is a small message of love to you so that you do not go hungry. Don't think that these people donate because they don't know where to spend their money, no! These are sacrificial people who live your life. Always think of it as a clear concern for you! God has called such people to serve you!

People are turning to God. There is a statistic where 20 percent were normal circumstances for repentance, and 80 percent were circumstances of stress. And when the disasters came, many people became very sensitive. Many people say that we used to come to get help. "Yes, we came for help!" they say. "But today we need God!" People are no longer ashamed to say this, they say it openly. Many people's eyes are burning. I watch them and realize that we are now experiencing what we experienced in the '90s. Some may say that we want mass repentance. But I say: no! God only changes their hearts. The goal is for them to sincerely understand who they are and who Christ is for them, for them to get to know God and for Him to reveal Himself to each of them personally. For this to be the beginning of their faith. This is the most important thing. The impact will be great and deep because of all the circumstances that have happened in the country. These challenges have prompted many people to think about the meaning of life. When we talk to them, they say: "We knew all this, we heard all this, but it was all very superficial. And if it were not for the war, we probably would not have heard and thought about God so deeply." A person in a dark and hopeless state can say that this is a glimmer of light for them. It is difficult for people to admit that they would like to change what they had for what they have now. But even today, people already value their current situation.

At the last meeting with them, we talked about the prodigal son. For me, this is not a parable, but a living story of relationships in a family. There are two important conclusions in this story: when the younger son has lost everything and says, "I will go to my father." The world has pushed him away, and he says, "I will fall down and tell my father: accept me!" A person in this world needs acceptance. And then the prodigal son realizes that his father will not let him die. So I tell them honestly: I am really helpless before you. My house is intact, and you have everything destroyed. But I know the One Who will always accept you and give you everything you need. And I will be telling you only about Him! Thank the Lord, people are responding and beginning to trust the Scripture.

We have made the following decision: we live in such circumstances, so we will continue to do and serve in the same way. We do what we have to do as Christians. We have a goal for today, and we are fulfilling it: God sends us such people, and this means that we have to love, accommodate, and accept them.

I realize that in all the grief we are going through here, God has His own plan! We have our mission this time. Physical and spiritual battle continues for people. One thing is encouraging: God is in control, so we trust Him in everything! May He continue to use us in His work and for His glory! Thank you again our friends, for your faithfulness and commitment, for walking this extremely difficult path with us. It is only because we always have faithful friends by our side, we have not fallen and broken. We thank God for you!

Serving Him,

Oleg
Water for IDPs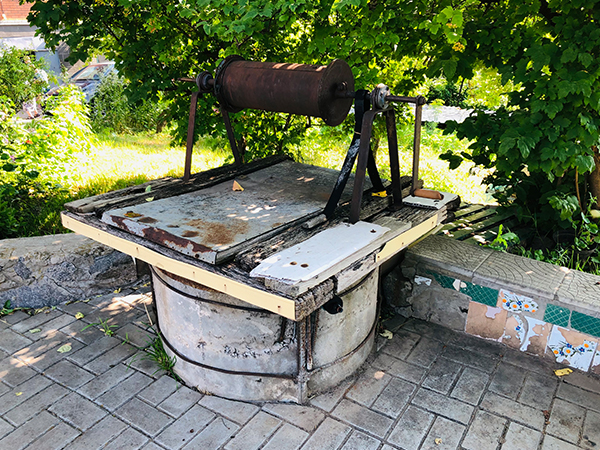 This picture shows a well on the territory of a church in our region. This well was used by IDPs who lived in the church at the beginning of the war. There were about 80 people living there at the time, and they used the water all the time, because there was not enough other water at that time. Over time, the water in the well ran out because so many people used it. The well also fulfilled its mission during the war for the IDPs!
Testimony from Dmitri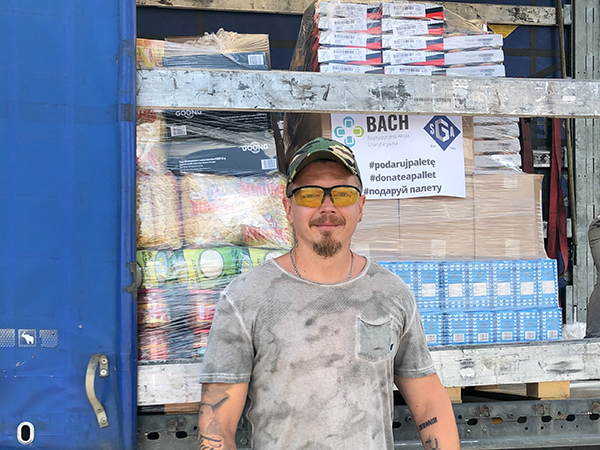 I am an IDP from Kharkiv. I have been living in the Poltava region for more than a year. A year ago, my family and I joined Calvary Church. We actively help in the church with the distribution of aid, we also go to the de-occupied territories as a team and bring food there . . . Thanks to the cargo we received today from Poland, we are able to help the most vulnerable categories of people. They are very grateful to all of you for your care and attention. It is very important!  Before each distribution of such food packages, our pastor first evangelizes to the people, telling them about Christ and reading from the Gospel. We always bring the Word of God to people first, spiritual food, and then physical food. month, and we hold local meetings for the IDPs in our local church every Sunday. We thank the Lord for you and your service to our people! 
Summer Bible Camp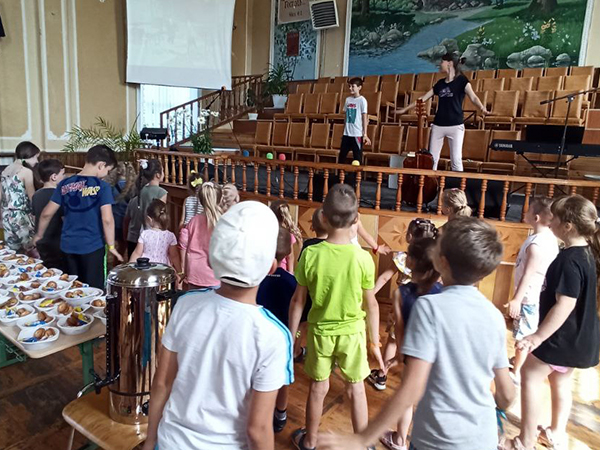 Recently, we held a camp for displaced children here on the church territory. More than 100 families brought their children to our camp. While the children had their program in the church yard, I talked to their parents in the church building. It was good, lively communication. People were interested, asked questions, and expressed a desire to come to our Sunday services in the future.
---
In a time of great uncertainty, God is bringing help, healing, and hope to the people of Ukraine through SGA-supported pastors, churches, a seminary, and SGA-sponsored Compassion Ministry. Be a part of God's incredible work with your generosity and prayer support.
Your gift of compassion helps struggling people with emergency aid that generally includes Scripture materials, food, medicine, warm clothing, and shoes.