God's timing is always best, and in the case of SGA-supported Pastor Sergei's report below, the humanitarian aid provided literally arrived when all other food aid had run out! 
As we faithfully send the emergency supplies—provided through the generosity and prayer support of friends like you—the leaders of the Ukrainian Baptist Union guide the truckloads to the right regions. All of this works together to serve their churches, and is all by God's grace and His leading.
Whatever we face today we can know that God is at work in and around those who call upon His name! Read more from Sergei . . .
Dear brothers and sisters!

"Hope Church expresses its deep gratitude for your financial and prayerful support. Please accept our sincere gratitude for this valued food aid for the IDPs [internally displaced persons] who attend our Bible study meetings. Since the first weeks of the war, we have been trying to help people who were forced to leave the dangerous areas of Ukraine and are now in [our city and this region]. Every week on Saturdays and Sundays we have groups attended by more than 120 people, and the number of people is growing every month.

Your help has been an answer to our prayers. Just the day before we almost ran out of food packages. With your help, we continue to support our people who are in great need, and many of them have lost their homes. We are very grateful to God for you and your open hearts.

May the Lord bless you all abundantly!.

Pastor Sergei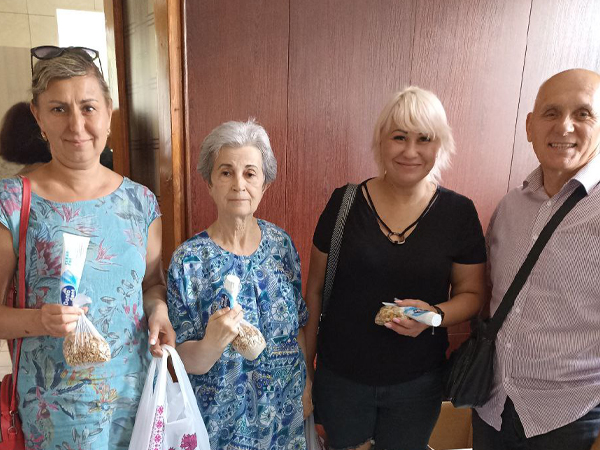 Testimony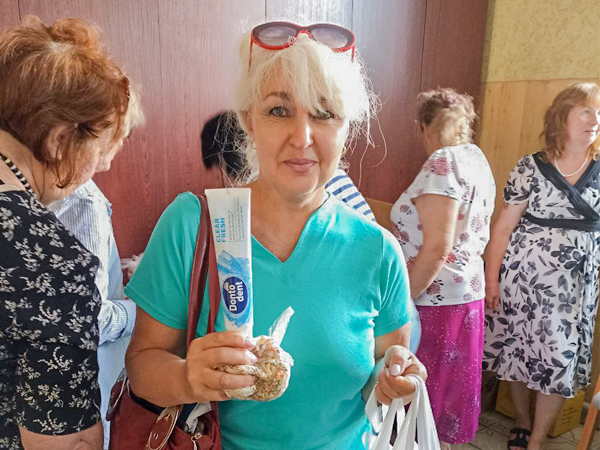 Natalia
My name is Natalia, I came [here] from the Kyiv region. From the very beginning of the war we were in a bomb shelter.
Two and a half months after the war started, we were forced to leave. During the occupation, we had no opportunity to leave, because we lived near Kyiv and the enemy did not allow anyone to escape from there. Then, when I had the opportunity, I fled the region. At first, we planned to go to western Ukraine, but eventually decided to move [here]. At first, I was able to leave alone. My daughter and her family were still at home. Then, after a rocket hit our house and our home was completely destroyed, on December 31, just before the New Year, my daughter and son-in-law were forced to flee as well. Now the three of us live [here].
We are sincerely grateful that we have been very well welcomed. Our friends advised us to come to Hope Church. From the very first meeting, I really liked the friendly, warm atmosphere. I was accepted in the church as if I were part of their family. We have wonderful meetings. I decided to attend home groups. People help us in any way they can, with food and, most importantly, spiritually. The church has become my second home. I am grateful to everyone who cares about us and does not forget about our needs, of which we have so many! We thank God for kind and generous people!
---
In a time of great uncertainty, God is bringing help, healing, and hope to the people of Ukraine through SGA-supported pastors, churches, a seminary, and SGA-sponsored Compassion Ministry. Be a part of God's incredible work with your generosity and prayer support.
Your gift of compassion helps struggling people with emergency aid that generally includes Scripture materials, food, medicine, warm clothing, and shoes.