My help comes from the Lord, who made heaven and earth (Psalm 121:2).
Pastor Oleg
Ukraine
I send the warmest greetings to you with love of the Lord Jesus Christ! Thanks for your care for us and for your support for our ministry! We used the funds you sent for the purchase of groceries and hygienic goods, which were given to the many displaced refugees and needy local people. We were able to reach more than 50 families made up of more than 250 people this past summer.
These are people of different ages and from different social statuses. They are united by the fact that they fled from hostilities to a safer place. Some have started coming to Sunday services. There are also women who have started attending a Bible study group every Monday.
Ready for baptism!
One woman named Tanya who moved with her husband from the embattled Luhansk region in the east has repented and is getting ready for baptism. Praise God!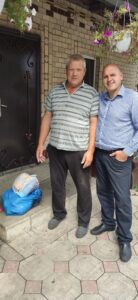 From drinking to Christ
Mykola is a man with a big, kind heart and a bold witness! He learned about the Lord from his old grandmother who was a member of our church and is now in eternity. Mykola regularly attends church services. He has major health issues —he's had three strokes, a heart attack, and has problems with his legs, but this does not prevent him from attending worship! When his friends, neighbors, and even relatives sometimes invite him to have a drink, he answers them firmly: "I am going to the House of Prayer, to pray to God for myself and for our boys at the front, just leave me!" Having health problems, Mykola is unable to work as he would like. His wife is unwell also and has had several surgeries. Therefore, these packages are a great support and help for this family! Pray for Mykola's family to come to know the Lord as their Savior.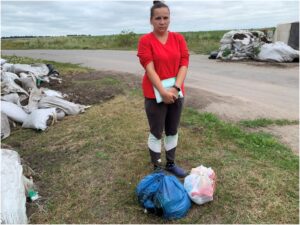 A family flees amid bombardment
Olena, her husband, and two children lived in the Donetsk region. In the spring, the invaders began massively shelling the city with heavy artillery. The authorities started a mandatory evacuation. The family was taken out of the shelling zone by an evacuation bus. Now the family lives in a village near here. Olena received the Word of God, food, and hygiene products as a gift. She thanked us for the aid and care.
Seeds planted begin to take root
Next are several women and their families and each of them have two or more children. When these women were children, they attended the House of Prayer, Sunday school classes, and children's Christian camps. They had grown up in a dysfunctional family. They would watch constant quarrels, and drunkenness every day. The children were raised in the street. Now both their mother and all the ladies occasionally attend church services, mostly on holidays thus far, but the understanding that they need to change their lives is growing all the time. At the moment, it's impossible to get a job in the village. Therefore, these grocery sets and hygiene items are very necessary for them. Galya, Tanya, and Diana sincerely thank SGA and donors for the care which is shown in this difficult time.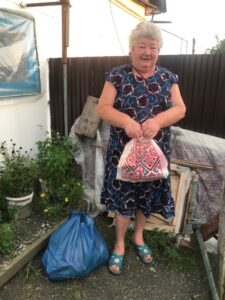 Christ beckons to her
Finally, there is Natalia. She has a husband who suffers from cancer. A lot of money has to be spent on treatment and medicine. They accepted our aid with gratitude, and with great joy and tears. Some time ago Natalia attended church services, and promises to come again. Please pray for Natalia and her husband, and for them to repent and receive the Lord in their hearts.
We are grateful to you for your work, through which we can serve people like these! May the Lord give us strength and courage to serve for the expansion of His Kingdom!