Editor's Note: The images below were provided by an SGA-supported church in Poland.
The following testimony from a Ukrainian refugee family is difficult to read. But in the midst of the war propaganda and confusion in the news, here is a real account. It is brutal. No child should ever see such things, much less an adult. Yet at the end of the road is one of the churches SGA works with now, and the Gospel is clearly presented. 
Pray especially for the two-year-old child . . . that the horror they have seen will fade and the beauty of Christ and a loving church family will settle into their heart instead.
Mikhaila* (21 years old), her husband Fedir, and their daughter Sofiy (2 ½ years old)
Living on the Eve of the War
Before the war started, Mikhaila worked at home as a manicurist. As a volunteer, she worked as an assistant cook at [a military base in a Ukrainian city], and her husband Fedir served as a volunteer in [another Ukrainian city]. Mikhaila recounts, "On February 22, my husband and I were allowed to go home from the base to attend the wedding of a fellow soldier. We drove to our home in the center of [the city], and then we went to the wedding. On February 23, our entire family just rested at home. On February 24, in Telegram, we learned about the brazen attack on Ukraine."
The War
"At first, we didn't understand what was going on: the stores in the city were working, the transportation was working, and everything was as usual. Then there were huge lines for food in the stores, and only a strictly defined amount was given to a person. At first, all municipal public services were still operating. However, on March 2, the city lost electricity, water, and heating. From February 26 to March 1, there were no mobile networks in [our city], so we could not contact our acquaintances and our colleagues in [a different Ukrainian city]. On March 1, my husband called [the base's] commander, who told him to come to the base and get the military equipment."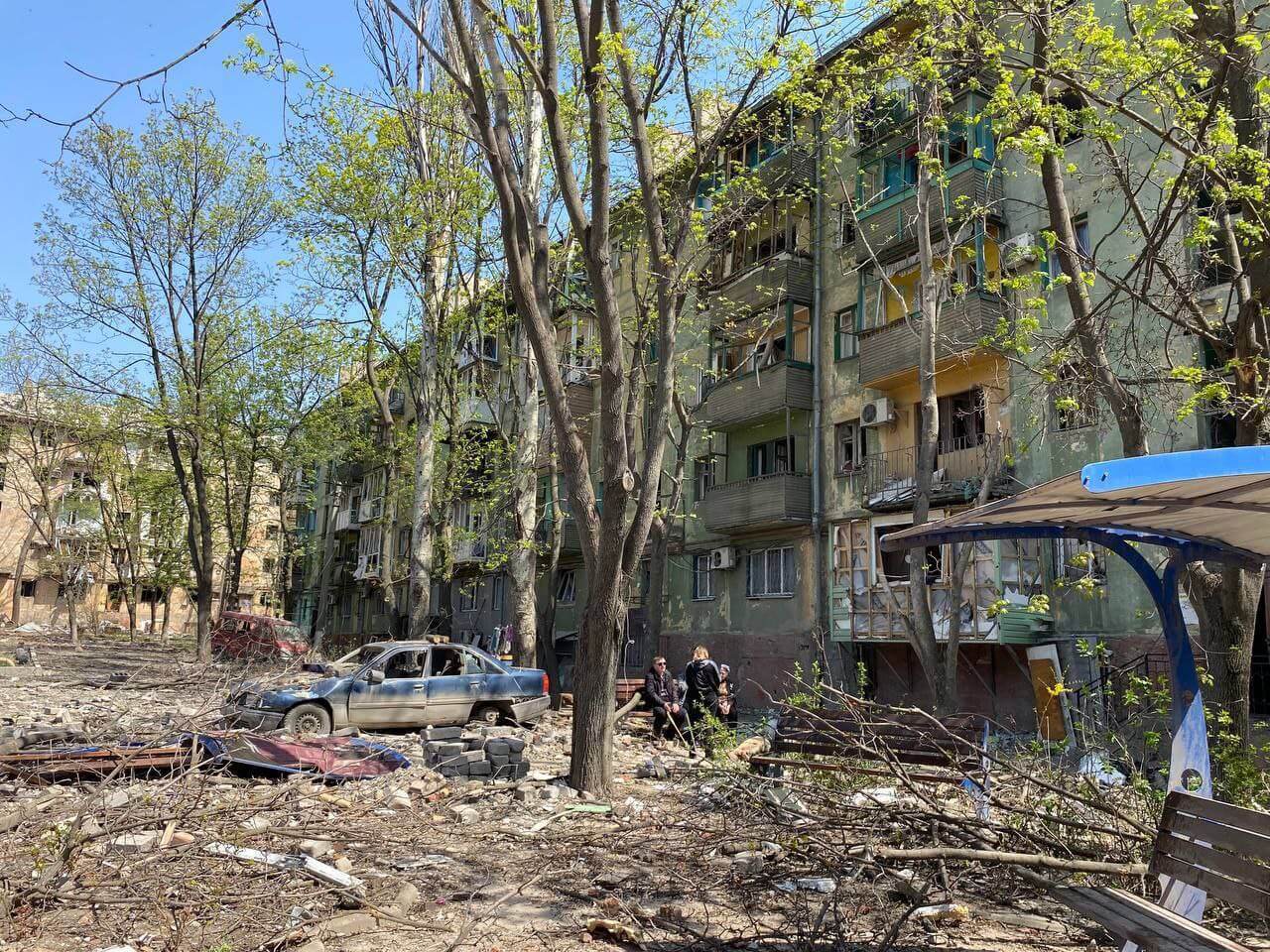 Memories of the horrors committed
On February 28, Mikhaila went to see a friend and on the way, she heard heavy explosions in the city. A shell from a missile system hit one of the buildings, there were many victims, also wounded. People's bodies were just scattered around.
Mikhaila tearfully recalls the horrors she later witnessed in [her city]. In front of Mikhaila's eyes, during one of the shellings, a shell fragment cut the body of her relative Anastasia* in half. She died instantly, but her husband still couldn't believe it and tried to save her. "We were also burying a friend of mine," says Mikhaila, "who came out of her hiding place into the street for a while. At that time shelling started and she died. Then my husband and I started searching for her under the rubble. But we only found her hand and a sneaker, that's all that was left of her. We recognized her hand from her finger rings and the manicure I did for her prior to the beginning of the war. We buried our friend's hand and sneaker right outside her home. She was left with her son Bohdanko* (4 years old), who was taken by occupants to [another country] in an unknown direction."
Mikhaila also says that another scary moment especially stuck in her memory: "One day, in between shellings, my husband and I went to visit an acquaintance of ours who lived not far from us. When we entered her apartment, we saw a terrible picture: she and her daughter were lying with their throats cut, plus they were raped by the [opposition]. We buried them in the green area of [a park] when there was no shelling. At that time, there were already a lot of fresh graves, large and small.
Mikhaila also says that during all the shelling, she and her family did not go down to the basement, but were in their apartment, which was on the first floor of a high-rise building. They slept in their beds with their clothes on. Mikhaila also says that after the prolonged shelling and all the horrors she saw, she always felt devastated. She wanted to see and hear nothing more, but for a shell to fly into their apartment so that everything would be over. But they had to find strength and, with God's help, continue to serve those around them. During the shelling, she and her husband still went to a well to get water for themselves and their neighbors while it was still possible. A little later, they couldn't even get water because of the continued shelling. And then they simply went out quickly, picked up snow, melted it and drank that dirty water. Everyone had a stomach ache and the children vomited afterwards. There was no bread, other food also ran out. They did not meet any volunteers in [their city] at that time. There was nobody to help people. They tried to survive the best they could: they looted closed grocery stores and pharmacies, caught and cooked pigeons just to survive.
Mikhaila recalls, "On March 14, my husband, my daughter and I went by car to [a steelworks company]. We put Sofiy in a backpack and put a shrapnel-proof vest (Kevlar) on her. As we drove, our child saw bodies of civilians killed all around us. My daughter asked me, "Mom, what about them? Why are they lying here?" I told her they were sleeping. But a woman who was in the car with us, when she saw kids lying there, told my daughter that they were corpses. My kid then realized that they were dead and said, "Mom, they're so small, and they're already dead. Why?" She already knows what death is like at the age of 2 ½."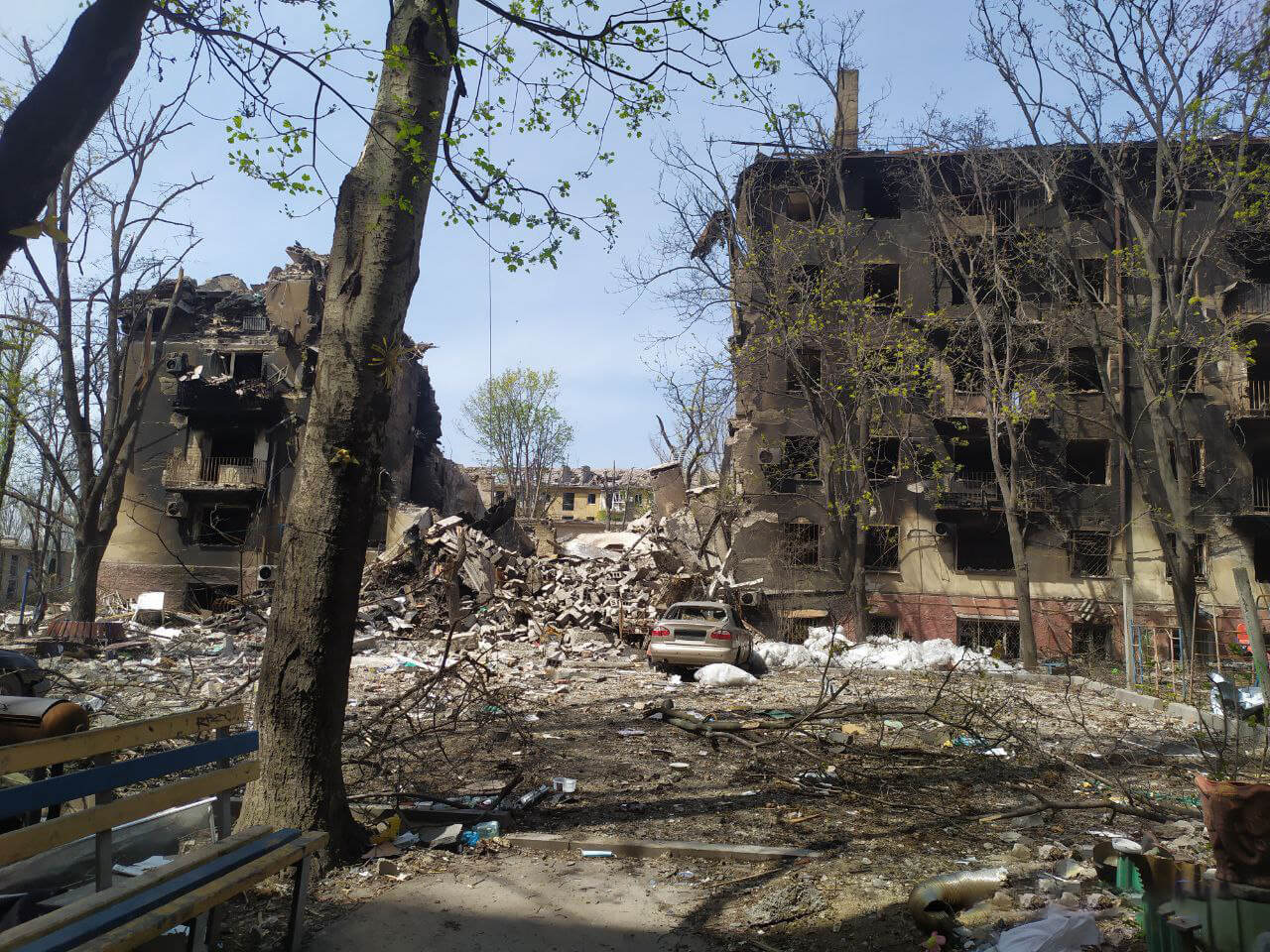 Evacuating from the city
"Our family was allowed by our sworn brothers from [the military base] to evacuate to a safe place because of our little daughter," says Mikhaila. And on March 17, at 5 a.m., we left [our city] for [a different city] at our own risk, passing [the opposition's] checkpoints. At one of the checkpoints, the occupants told us to get out of the car and made us all to undress. They were in search for tattoos with Ukrainian symbols. My husband didn't have any tattoos, so while there was no "filtering" at the time, he was able to "slip through." But they found a tattoo with Ukrainian symbols on my body and started mocking me because of that. Then I started screaming and standing up for myself. A woman insulted me and refused to let me go. But then a male came and ordered them to let me and my whole family go. It was quite a miracle for us. The only thing they took away was our daughter's tablet computer. We hid our phones deep in the car, and they were unable to find them.
We got to [another Ukrainian city], where we stayed for 2 days in a school. From there we had a long way in another car . . . My husband Fedir did not come with us to Poland, but went to [another Ukrainian city] and remained there to defend our homeland."
Staying in Poland
Mikhaila and her daughter now live in a Baptist (ECB) church in [a Polish city]. Her close friend Lyudmila* told her about the church. Mikhaila says she is deeply grateful to Artur, Marina, and Kolya, who volunteer to help the refugees in the church. Mikhaila is fascinated by the Poles and is grateful to Poland for treating the Ukrainians so well and not abandoning them in trouble.
*Names changed to protect privacy.
***
In a time of great uncertainty, God is bringing help, healing, and hope to the people of Ukraine through SGA-supported pastors, churches, a seminary, and SGA-sponsored Compassion Ministry. Be a part of God's incredible work with your generosity and prayer support.
Your gift of compassion helps struggling people with emergency aid that generally includes Scripture materials, food, medicine, warm clothing, and shoes.