Eric Mock
SGA Vice President of Ministry Operations
We are preparing for 2023 Summer Bible Camp ministry with great hope. In 2022, by God's grace and provision shown through your partnership, more than 50,000 children were assisted in attending Summer Bible Camp offered by local churches supported by SGA. This was a 25 percent increase over the previous year!
Even more stunning is that more than 7,000 children made professions of faith in Christ, and 11,156 children desire to come to church. That is double from last year, and reflects some 140 percent growth over the past five years! We expect that final numbers will be even higher, as there were camp sessions that were delayed due to the invasion in Ukraine and its related impacts. But the Lord is moving in many young lives, and for that, may He be praised!
This included a 30 percent increase in the number of children from unbelieving homes. We assisted 800 churches in 10 former Soviet countries in holding 704 camps, which is tremendous growth over the past five years!
A Seven-Year-Old Evangelist
In Belarus's Grodno region, Pastor Alexander shared the story of one young boy who proved to be an eager witness for Christ: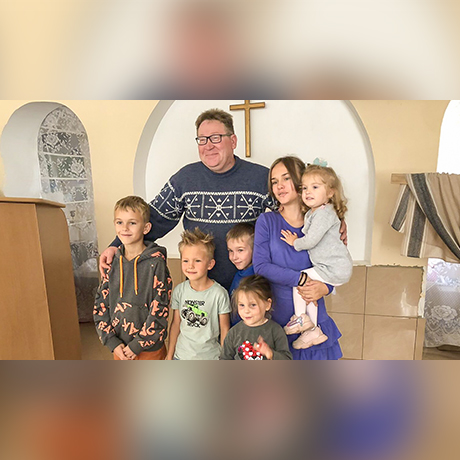 Danik is seven years old and attends Sunday school. He was at his grandmother's during summer vacation in a town where most of the residents are former military. When Danik was playing outside with others, he would drop out of the game and run up to passersby, taking them by the hand and retelling what he had memorized from the Bible camp.
He told them God loves people, that God is always there, and invited them to a prayer group. His grandmother later said that there had never been so many new people at a group as there had been that month. The other children told us the story rather than Danik himself. We later asked Danik how he decided to whom he would speak. With childlike simplicity, he replied, "They were very sad. I didn't want them to go to Hell!" The theme of the camp had been "You're Not Alone."
This is a beautiful affirmation of the work God is doing in the midst of all the turmoil in this present world. As Job reverently declared . . . I know that You can do all things, and that no purpose of Yours can be thwarted (Job 42:2). Even in the aftermath of a tragic pandemic and an ongoing, horrible war, the Lord continues to build His kingdom.
As we prepare for yet another Summer Bible Camp season beginning this June, please pray in advance for the children who will attend and for the churches holding the camps. May God be glorified in the bountiful fruit!