I saw the future in the faces of these graduates.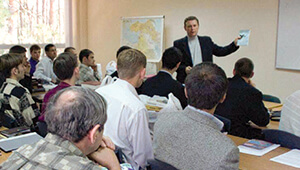 In May I was blessed to lead a small team from SGA to attend graduation ceremonies at the SGA-sponsored Irpen Biblical Seminary in Ukraine. It was so inspiring to see this year's graduates receive their diplomas after their careful study of the Scriptures, and gratifying to realize that you—our faithful partners—have helped make it all happen.
The seeds that gave birth to Irpen were planted many years ago when a Baptist deacon named Gavril Brinza was arrested for his faith, and scheduled for execution. God miraculously spared Gavril's life. And after the Lord brought the Iron Curtain down, Gavril's son Alexei would become founding president of Irpen Biblical Seminary in 1991.
Local church leaders then identified members whose faithful, fruitful ministries had demonstrated spiritual giftedness and our Lord's calling upon their lives. While a good knowledge of the Bible was expected, the main spiritual qualification would be consistency with Isaiah 66:2, which reads . . . But to this one I will look, to him who is humble and contrite of spirit, and who trembles at My word.
Instructors poured their lives into the students, and as a result over 95 percent of graduates are still in full time ministry. Today, we have a wonderful teaching staff made up of smart, humble, and godly individuals who were trained and mentored at this very seminary. This is indeed the fulfillment of the vision to train up godly Ukrainian leaders who themselves would go on to train future generations of church leaders and servants.
SGA's founder Peter Deyneka's motto was Much Prayer Much Power, Little Prayer Little Power, No Prayer No Power. Irpen Biblical Seminary was built upon a foundation of prayer. As I spoke to the graduates on that wonderful day, I encouraged them to go out and use what they learned to expand their ministries, trusting in what God has done and will do in the future. I am thankful for your prayers and partnership in supporting Irpen, and all SGA-sponsored Bible training across the CIS. Only eternity will reveal the true impact!
For our Savior,
Michael Johnson