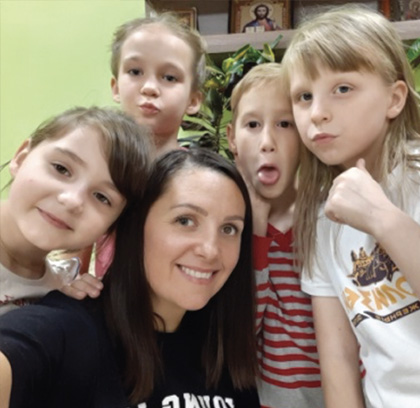 Outreach in Ukraine reaches once hardened residents. SGA supporters give hurting children Christ's hope through Orphans Reborn.
SPECIAL REPORT FROM: Krasnoyarsk, Russia
Let us not lose heart in doing good, for in due time we will reap if we do not grow weary (Galatians 6:9).
For the members of SGA-sponsored Orphans Reborn teams across Russia and her neighboring countries, ministry to broken, forgotten children is a devoted calling. Sometimes it is hard to discern the impact in each young heart, but as team member Natalia Zhukova wrote to tell us, the children's joy speaks volumes:
Each time we visit, I am concerned about what the reaction of the children will be to our lessons. But when they run to me with shouts, "Hooray! The Christians came!" it gives us all such joy in our hearts!
Vadim Barsukov added the story of a young man named Alexei, with whom they had been working for years. Alexei had been a part of the Orphans Reborn lessons at the orphanage as a young child, but graduated six years ago:
This past September, we were surprised when Alexei came into the room. We hadn't seen him for a long time. After he greeted us, he asked if we had restarted our regular meetings! He said he wanted to begin attending again, and his search for God is still ongoing . . . . Then later, he came to our first meeting bringing his younger brother Victor along, who now attends our meetings and Sunday worship services. Alexei is a joyful, clever, and hopeful young man, and we pray that one day he will invest all his efforts in seeking the Lord. Right now, about 20 young people are attending our meetings. Please pray with us that the Lord will draw each one to Himself!
Orphans Reborn teams in the Krasnoyarsk region visit several ministry venues that include social centers for children from dysfunctional homes as well as orphanages. The ages of the children range from elementary age to teenagers, and even young adults. It is much the same in every former Soviet country where the ministry takes place, and the needs of the children are the same—young, broken lives who desperately need to know that they have a Savior who loves them. Thank you for all that you do to help reach them with the love of Christ and the life-changing Gospel!