By Lana Yusov
SGA Children's Ministries Coordinator
The SGA-sponsored Orphans Reborn (OR) outreach is bearing wonderful, eternal fruit in thousands of young boys and girls across the CIS. Below are a few glimpses of the ministry your prayers and faithful giving make possible.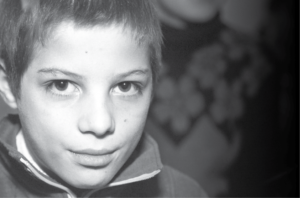 While on a recent visit to Russia's Volgodonsk region, I met a young man whose name is Dastan. He is a wonderful example—living fruit of how OR is being used by the Lord to change boys and girls for eternity. Through OR, Dastan found the Lord. He graduated with a good GPA from school, and then from the university. Today, Dastan is working in one of the local orphanages as a caregiver. He witnesses to orphans and because of his loving testimony and example, these orphans were introduced to believers from the local church and learned even more about the Lord. Dastan's personal dream is to adopt eight orphans and he is already working on the adoption of one boy. We will have more to share about Dastan later, but please pray for him and the ministry that God has granted him!
Thanks to the help of SGA sponsors, many orphans in Russia are receiving assistance after graduating from the orphanages at age 18. Andrei is one such graduate from an orphanage. He has entered college and was able to get a job. But he had a whole month to live before his first paycheck. Thanks to the local OR team, Andrei received everything he needs to live until he receives his first salary. This is a good testimony to him about how the Lord can provide for all who trust in Him.
–––
In Yerevan, Armenia, a special family is teaming together for OR ministry. Andranik and Armine, along with their children Ani and Tereza, are laboring to reach orphan children for Christ, helped by a few more volunteers from the church. They wanted us to convey a personal message to all the sponsors who support their ministry to orphans:
We are thankful to everyone who supports our ministry. We carry out our ministry for the Lord, and every gift we receive for this ministry we receive as from the Lord. Please pray for us, for the orphans, and for more volunteers to join with us in this needed ministry to reach orphan children for Christ!