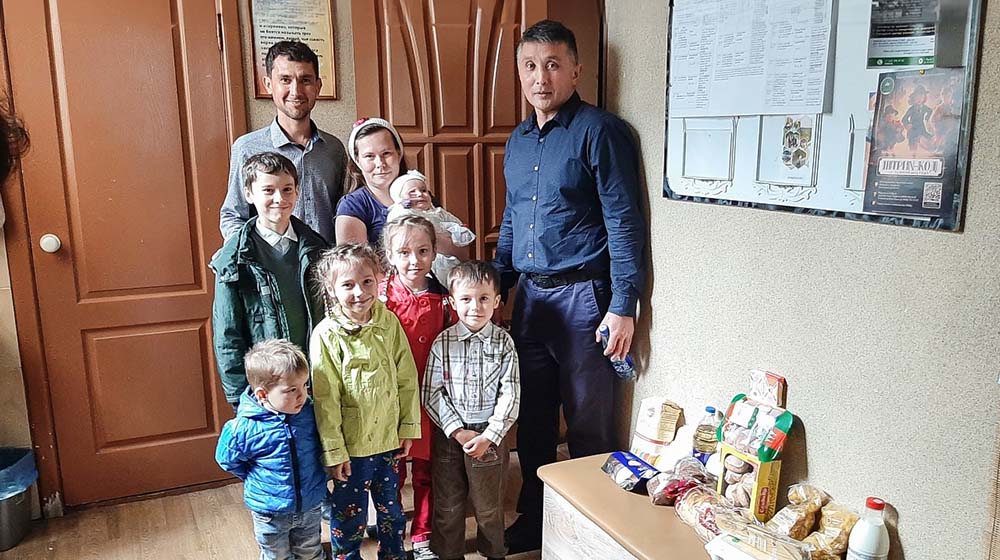 In many parts of the world, SGA-supported pastors and missionaries must take the road less traveled—walking door-to-door to share the Gospel. With love and compassion, from home to home, they knock on doors and share Jesus. When possible, they may carry food packages and humanitarian aid to those in need. It's a continual ministry, not only from day-to-day, but until the day is no longer needed.
            Please pray for Pastor Khakim and his wife, Aloyna, who are faithfully serving in Russia. Oftentimes, as in the stories and images below, they minister by going from door to door to offer aid and Gospel hope. Support from friends like you makes their stories and ministry possible. With your support, and the grace of God, they can show the love and mercy of Christ to neighbors and people they meet along their travels. Thank you for touching hearts and lives every day.
Report from Pastor Khakim in Russia
In these two photos, my brother Alexei and I are visiting the Roma family of Vitaly. We have been visiting them almost every month. Vitaly has a bad foot and is retired now, as is his wife, Tamara. The couple lives in a rented house. Vitaly calls and asks for help from time to time. In this photo, my brother Alexei is reading out loud to them from the Gospel of John. They already know about the way of God; we have given them many Christian books in the past. We pray that the Lord will grant them salvation.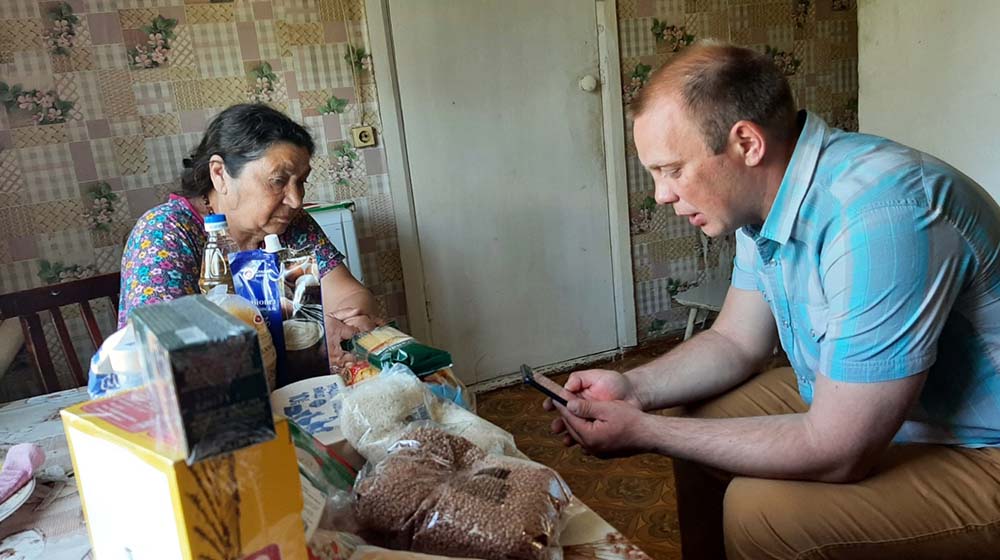 Here, I am in a church where I preached and shared about our ministry. I brought a gift of groceries for our sister in Christ, named Olesya. She is a refugee, and raises her son all by herself and needs help. Olesya is very grateful to the Lord and His church for the generous help she's received.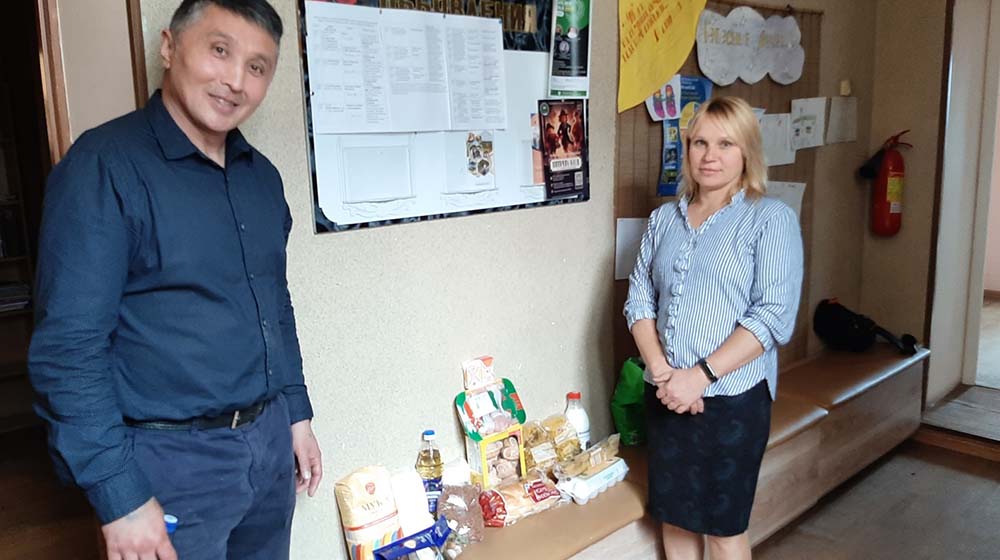 This photo is of a large family. Timur and Anfisa are raising six children. Timur is a deacon of the church. We provided them with the grocery gift, for which they were very grateful and praised God.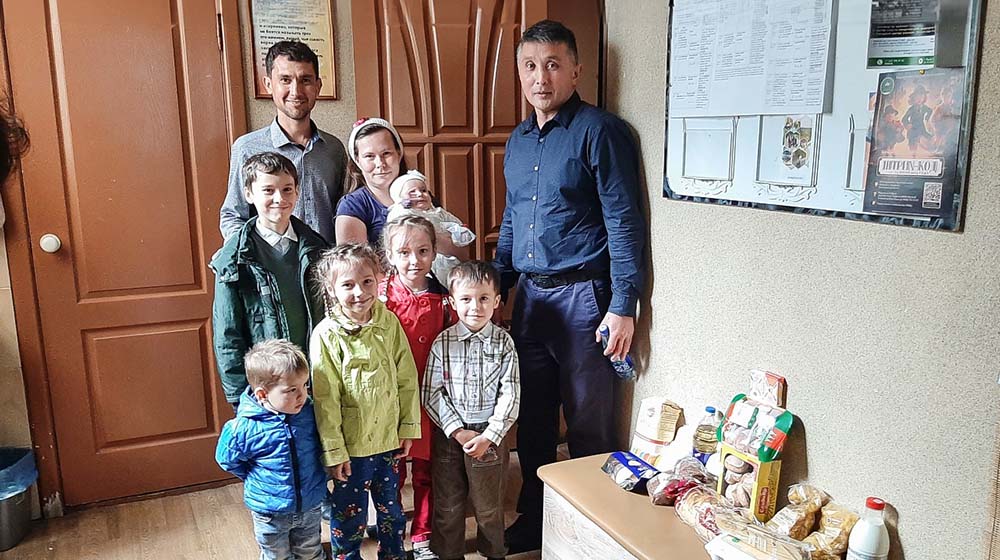 My wife and I visited Sveta. Sveta works as a taxi driver. She is not married and recently gave birth to her third child from a man who deserted her. She has two older children. Alyona, my wife, got acquainted with Svetlana when she gave her a ride. Alyona witnessed to her about God, they exchanged phone numbers, and became friends. This time we decided to visit her. Sveta was delighted; she did not expect that we would bring gifts. In addition to a bag of groceries, we gave baby diapers for her newborn. Sveta lives in a house that requires to be fixed up. It seems to be a solid house, but much interior works still needs to be done. While I was waiting for my wife in the car, Alyona shared the Gospel with Sveta. We will be in touch with her for further communication.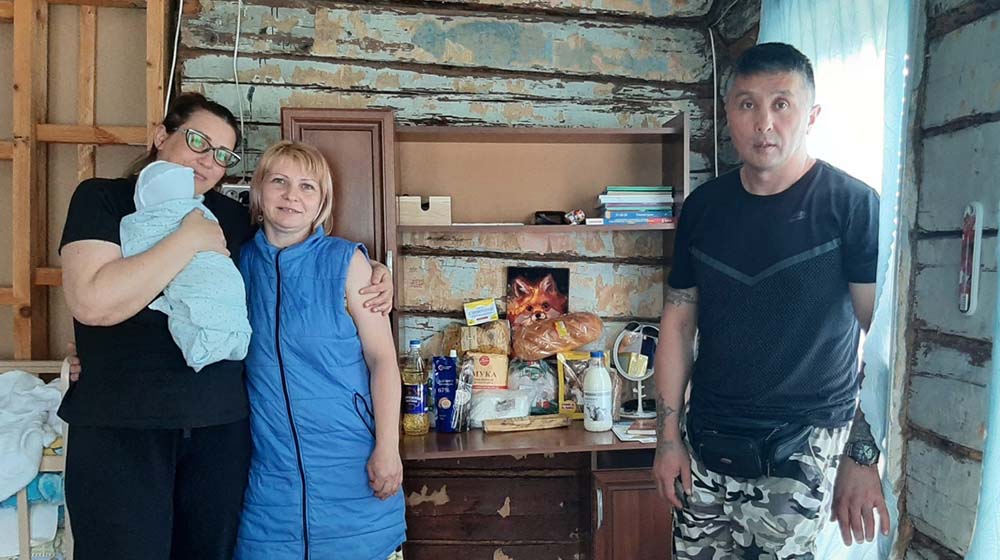 Here, I am visiting Alexander and Irina. They drink heavily in their day to day lives. I have known the couple for a long time. Alexander was recently convicted of a criminal offence. The couple leads a troubled life. During my visit, I witnessed to them about Christ and the need to repent. I gave them the magazine "Faith and Life". The family was very thankful for the gift of groceries.
This is Zoya. We have known this woman for a long time. I wrote about her and that her house needs major repairs. It is very cold in this house in the wintertime. Soya is a single mother of three. She works at the sawmill, earning only a small amount of money, and her family needs support that we were able to provide to her. Along with the food package, I gave her the magazine "Faith and Life." Zoya is very grateful for the grocery gift.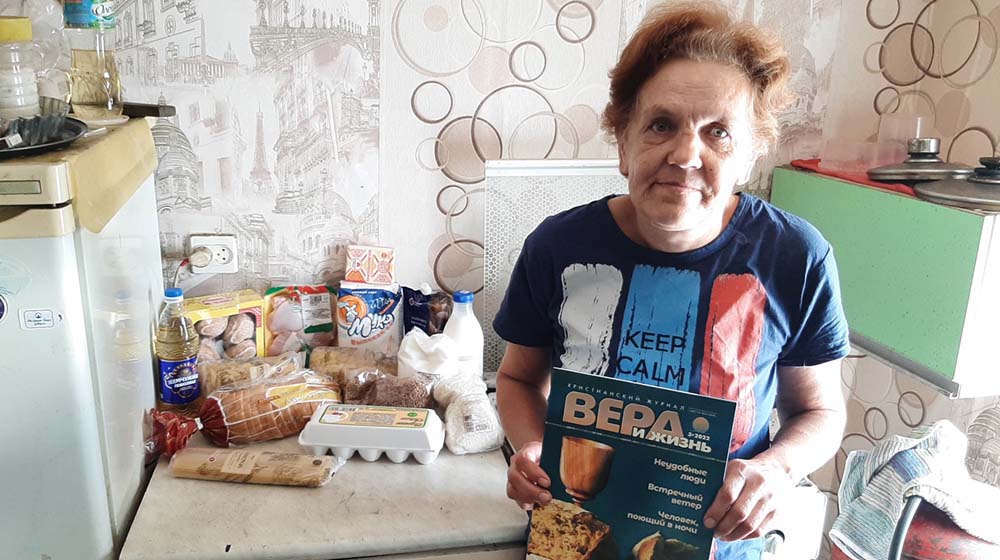 I visited with Dina, my neighbor, who lives across the street. Dina is single; she lives alone and works as a dishwasher in a café, making little money. Her apartment is rundown. She does not show any interest in faith in God. However, this time when I was talking about sins, she started crying. Of course, she might have sins that torment her soul of which we do not know. We should continue praying for her.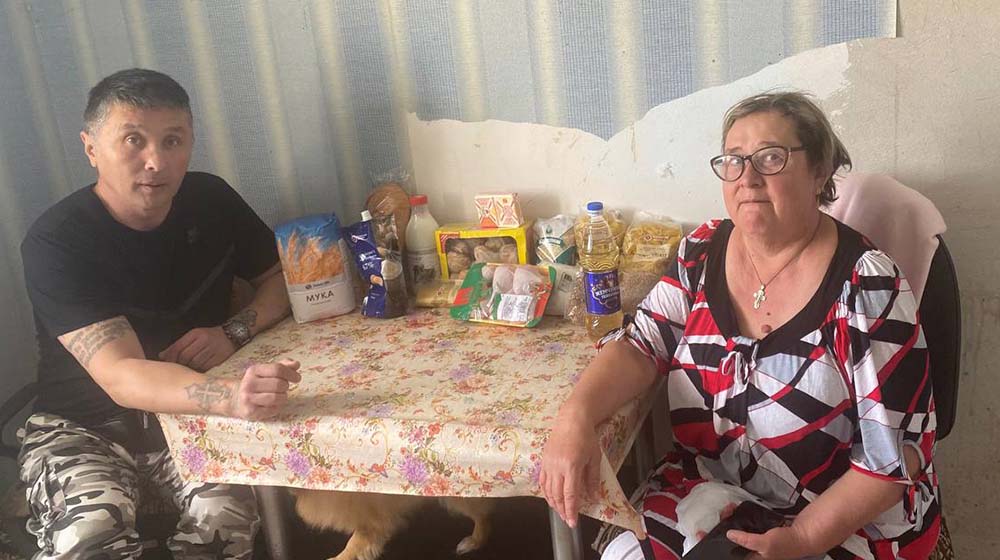 We visited Valya. At the time of my visit, another woman, Tanya, came by to Valya's. Both women are in dire situations and I gave each of them a grocery gift. They are very hospitable and always seem to be in a good mood. Valya lives in poverty, raising two girls with her husband. I talked to them about God, reminded them of God's judgment, gave them "Faith and Life" magazine, and the Tropinka (The Path) magazine to the girls.
In this last photo, we had another visit to Vitaly's house (the Roma). He called me and asked for help. It was on a Saturday, and I invited them to our church meeting on Sunday. They both seemed very motivated, but on Sunday they did not show up. Still, we pray.