Editor's Note: The images below were provided by an SGA-supported church in Ukraine.
"The conflict will not be resolved quickly," shares SGA-supported Pastor Dima, who continues to serve with his congregation in a Ukrainian region that is now 60 percent occupied. But they are not giving up!
Our brothers and sisters in Christ know that tribulation in the Ukraine war brings perseverance. Perseverance brings proven character. And proven character brings hope which does not disappoint "because the love of God has been poured out within our hearts through the Holy Spirit who was given to us" (Romans 5:3-5).
"People in need leave the aid center with hope," Dima share in his report below. We praise God that this hope does not disappoint! Read more of how Dima and his team are serving the region where they live, as well as several other hard-hit regions, with the love of Jesus Christ. Here are some excerpts from his latest report . . .
Greetings to you!

In [one Ukrainian region], the bridges leading to the town are now destroyed and therefore it is impossible to deliver humanitarian aid and evacuate civilians who, according to various estimates, number 5,000-8,000 thousand people. They allowed a corridor only for the wounded. In [another region], there is still a possibility for delivering aid and evacuating people, but heavy shelling continues and the level of danger is high.

Regarding [our region], 60 percent is under occupation. On-going fighting takes place, and in the city itself the barrage of artillery guns are heard, while Ukrainian air defense forces manage shooting down missiles aimed at the city. There are many displaced people in the city, those who fled from different places in the region to the city, as they do not want to go too far, hoping to return to their homes. Our observation is that the conflict will not be resolved quickly, and the return will not happen any time soon. The front line in the oblast (state) is still frozen and is changing 3-4 miles from one side or the other. However, a positive thing is that the landscape of the area features majorly a hilled terrain and our soldiers are able to do comfortable hideouts, and we hope that the [opposition] won't advance yet further.

The economic situation is in tatters. Businesses are in distress, having hard time paying taxes; unemployment rates are high, especially among the displaced that came from the occupied towns and villages. The situation for many is also aggravated by their financial reserves having run out, and this is a real problem. Moreover, people start returning from Europe, as they could not find housing or have no means of subsistence. In general, [our region] is now overflown with the displaced people, totaling to about 200,000 people.

Our team is working hard; and everyone sends greetings to you all. About 200 people come for aid every day, and we serve them at our best capacity. Everybody is very tired both physically and mentally, so at the end of the month we will have a week break, I think everyone deserves it.

Our trips on the project (hygiene items, medicines) in [our region] where hostilities are taking place are underway: we deliver food, bread and hygiene kits to the people who remain living there, and evacuate people from there.

Today a huge tragedy took place in [a nearby city in a different region], when a rocket hit a shopping center, and many people and children died and many were injured. This is horrible. Please pray for us.

There is a good part in the whole tragedy in which we find ourselves now; people are God seeking and we are here for them! Preaching the gospel and spiritual help is what distinguishes our work from all other organizations, as people in need leave the aid center with hope! People who receive aid packages in the midst of war do not leave without a prayer!
—Dima
***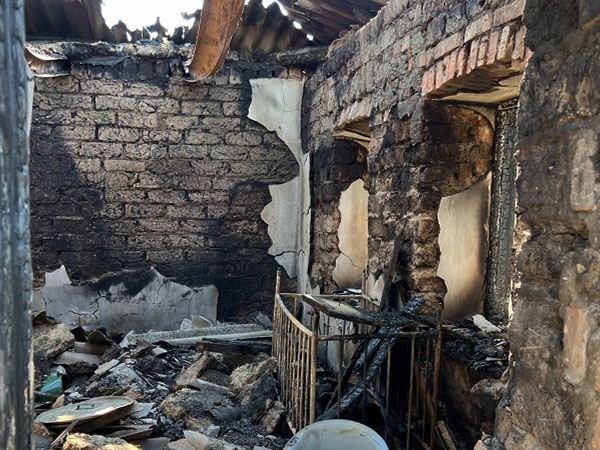 In a time of great uncertainty, God is bringing help, healing, and hope to the people of Ukraine through SGA-supported pastors, churches, a seminary, and SGA-sponsored Compassion Ministry. Be a part of God's incredible work with your generosity and prayer support.
Your gift of compassion helps struggling people with emergency aid that generally includes Scripture materials, food, medicine, warm clothing, and shoes.