God makes a home for the lonely . . . (Psalm 68:6).
From Alexei Tukureev
Orphans Reborn Team—Krasnoyarsk, Russia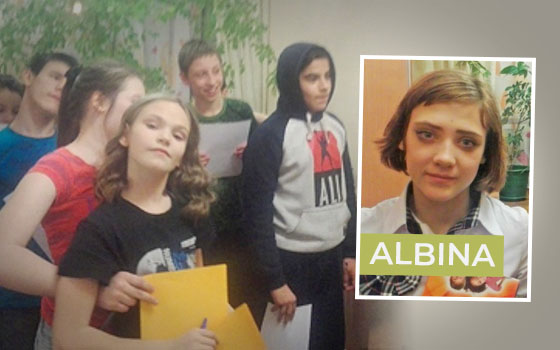 I thank you all so much for your support of our ministry, both in prayer and in giving. This month, I want to tell you about one girl who immediately drew my attention during my first visit to her orphanage. Her name is Albina.  
She drew my attention because she was like an outcast. Many of the other children would try to hurt her, and in her eyes I saw sadness and despair. Her favorite song was "The Road of Death," which describes the sufferings of the Lord Jesus on the cross. When we sing it together, she sings it with inspiration and honesty. I think the lyrics about sufferings and trials have a vivid, deep connection in the condition of her heart. Her heart is filled with great pain and suffering.  
Albina is a difficult child. She was placed in the orphanage because her mother cannot manage her. Even in the orphanage, she displayed a rebellious attitude that troubled her teachers. I doubt that she experienced much love, worth, and affection as a younger child. Today at the age of 15, she desperately longs to find such love although she uses such an irrational approach. I am glad the Lord provided our team to pray for her specifically every day.  
Only two weeks ago, Albina attempted suicide. She had a quarrel with other children in the orphanage, and went to the roof of a high apartment building and threatened to jump down. She was rescued and then sent to the hospital for treatment. I tried to visit Albina there but the hospital was restricted due to an influenza outbreak. I learned that she was very glad that I had come to visit her.  
Please join us in praying for Albina, that the Lord would open her heart at last and that she will repent. I know that our work is having an impact with her and the other orphans. The children come to our Bible lessons and pay great attention to our teaching. We were able to find brothers and sisters who would specifically pray for each child in all three groups that I lead. These are people from different towns and even countries! I am grateful to God, who unites us and uses us all for this joint ministry to orphan children!