Eric Mock
SGA, Vice President of Ministry Operations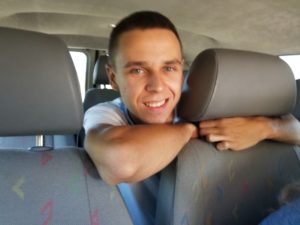 I want you to meet a young man named Artyom—age 23. Artyom began making trips with his father into the eastern conflict zone regions, carrying food and funds to churches supported through SGA's Crisis Evangelism Fund—usually once every month. The Lord laid the people of one town on his heart.
Eight months ago, upon hearing that the pastor had left the church, Artyom made up his mind—along with his friend Oleg—to move there for a time and assist. For eight months, Artyom has worked with the teens and children, while Oleg has fed and ministered to the elderly. That might sound amazing to most on its own, but add to it that this town has suffered from artillery fire, with some shells landing less than 300 yards from the church! The church, which along with 3 tons of coal provided through a generous gift to the Crisis Evangelism Fund, warms and cares for those people who cannot heat their homes or have just lost everything.
Artyom is an example of the faithful believers who place their lives on the line every day for the sake of the Gospel. When support is sent for the much needed packages, please also lift up in prayer, and praise of God, for those He has raised up to deliver this aid—even at the risk of their own lives. God be praised!
Help Suffering Ukrainians Now