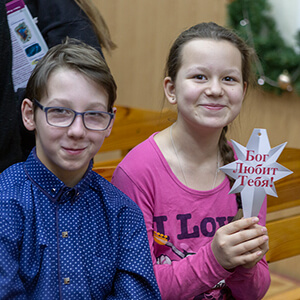 We are so thankful to the Lord for the faithful churches across North America who help make our Immanuel's Child Christmas ministries possible across Russia and her neighboring countries.
As the churches there begin the final preparations for their outreaches, please join us in intercessory prayer for the children and their families. Pray for:
God's provision enabling us to reach 40,000 children or more this year.
Many who will come to saving faith as they hear the true story of Christmas and the life-changing Gospel.
Protection for the outreaches that will be discreetly taking place in regions where opposition to evangelical churches is strong.
More supporting churches across North America to participate in this fruitful ministry.
Thank you in advance!
Help Suffering Ukrainians Now