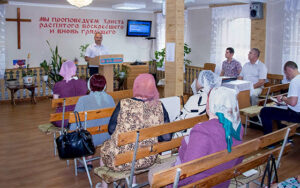 A Report from Sergei Kalinin,
SGA Orphans Reborn Ministry, Volgodonsk, Russia
Late spring is a busy time at orphanages in western Russia. Throughout April, children are preparing to celebrate May holidays with songs, parade marches, and other activities. We had not yet been to all the orphanages with our Easter program, so we decided to continue with it. All the trips were long distance and took between 14 and 16 hours. Altogether 1,016 children were visited — 725 orphans and 126 children from unbelieving families — along with 248 adults. Of that number, 161 were unbelievers.
We visited the children's home in the city of Donetsk* for the first time. The staff greeted us warmly and invited us to come again. One of the instructors approached us afterward and appeared concerned that we were "sectarian," but we convinced her that the Gospel truths we were presenting to the children were important and central. She thanked us and invited us to return.
In Kamensk, the assistant director told us of her surprise when the children did not want to attend a "puppet show," but after our program left the assembly with bright and shining eyes after hearing eternal truths. We then went to Kochetovsk, where the orphanage administration asked us to contract with them to work together as they had seen our ministry over the past several years.
We rejoiced at this! This particular children's home had a lot of graduates and several will go to Semikarakorsk to study. We took one Sunday and traveled to the church there to try and organize ministry for the graduates so we do not lose contact with them. Please pray that God will open this door!
One sorrowful part of our journeys was the stop we made at an oncology hospital in Rostov. The children here were ill with blood cancers, and it is painful to look at them and their parents, knowing their children might not survive. They need the hope of the Gospel like never before. We made a previous visit earlier in the month, and one of our sisters from Bataisk works there, and ministers to the children and their families regularly.
Finally, we have organized a prayer chain at both of the Baptist churches in our city. Every month, this prayer chain meets to pray for our Orphans Reborn ministry and for the children. It is wonderful to be able to share our needs and the needs of the children, and then we intercede in prayer together. We praise God for these opportunities to labor for Him, and we are thankful to you for your participation in our ministry!
*Note: The town of Donetsk is a different city than Donetsk in eastern Ukraine's conflict zone, although it is close to the Ukrainian border.