How wonderful to see the church being the church in Ukraine! As you will see in SGA-supported Pastor Oleh's ministry report below, he and his congregation are truly serving the Lord with gladness as they recognize very specific needs in their community—and reach out with Gospel hope and practical help.
"Thank you for the opportunity to accomplish these ministries and help those in need," Oleh says. He is grateful for the partnership of friends like you in this life-changing outreach as you give and pray. Read more from Oleh . . .
Dear friends in Jesus Precious Name!

[Our] region has several inter-church projects focused on serving internally displaced families and vulnerable citizens. Thank you so much for supporting these ministries with much-needed resources in the form of food and hygiene supplies!

Major regional projects include serving internally displaced people and local families with children, and youth with disabilities. This time, more than 80 such families received food and hygiene supplies. Thank God, because most of them spend the maximum amount of money on diapers, medicines, rehabilitation and special food for children!

Aid was also delivered to a [nearby] hospital, where seriously wounded are being treated, and there is a program for internally displaced children. With God's help, we try to organize these visits every month. Usually these trips take place in two parts: in the morning, children from four to eight years old (about 50) come, and in the afternoon, children from nine to 15 years old (more than 70). This time, the children enjoyed water games, a Bible lesson, art, and a location where they drew postcards and wrote letters to those wounded and in the hospital. Some of the letters have already been sent to the hospital. Along with the children's program, there is a spiritual communication for their parents with a tea time with snacks. After the program, each family receives a package of food and hygiene supplies.

Ministering to IDPs:

Since January this year the Lord has blessed us with separate meetings for IDPs [internally displaced persons]. These meetings are usually attended by 60 to 120 people every week. We study the Gospel of Mark. After the service, everyone has the opportunity to sit in a mini cafe with coffee and snacks and share their joys and worries. It is a very blessed time! Every six weeks after the service, people receive food and hygiene packages.

Thank you for the opportunity to accomplish these ministries and help those in need! May God bless your generous hands and kind hearts!

For His glory,
Oleh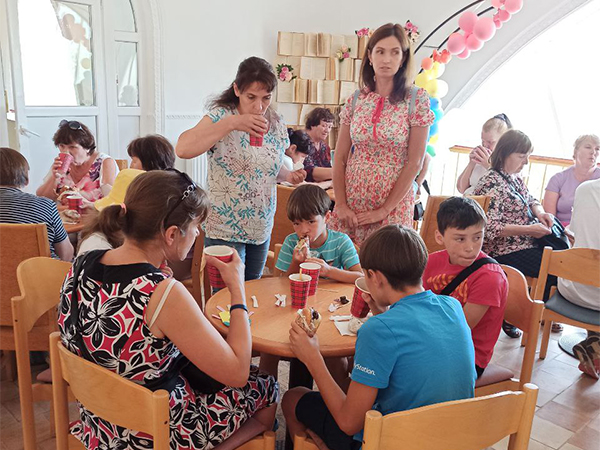 Testimonies:
Olesia
My name is Olesia. I am from the city of Chuhuiv. I have a husband and two daughters. We live in the suburbs of Chuhuiv, and we were probably among the first who heard and felt the war. We live in a private house, we don't have a basement, only a cellar. We lived there for a few weeks until we could flee.
We moved not far from home, to [here], because my husband works in strategic infrastructure: heating systems, and he could neither be fired nor leave at his personal expense. Like everyone else, we thought we were going for a few months at most, but we have been living [here] for almost a year and a half now, renting a room in the private housing sector, unfortunately, all the conditions are outside, but we have a roof, and it was warm in the winter.
Unfortunately, my daughters had a very bad experience of what they saw at the beginning of the war. The biggest shock was the sound of a neighboring house being bombed. My younger daughter, who is 11, has constant problems with her sleep. Since last summer, her eyesight has significantly deteriorated.
Testimonies: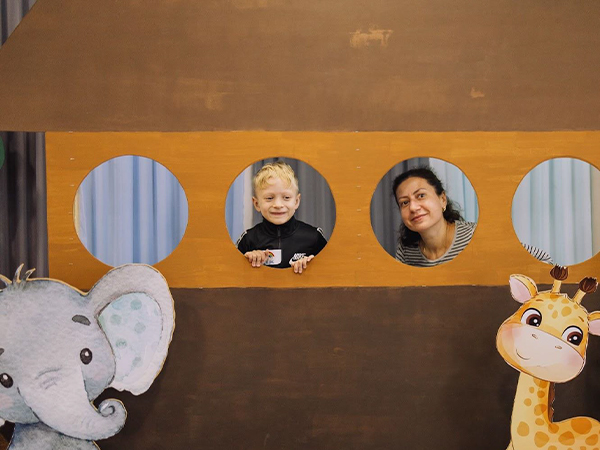 Karina
My husband and I are from Kharkiv. We moved [here] in March 2022. We are raising six-year-old twins: Mark and Marta. They both have an autistic spectrum disorder. Mark is more active and sociable. Marta still has a hard time with people. That is why we have a very limited social circle. Other children often do not understand why Marta is crying or screaming. In the fall of 2022, my husband got a job, and now we can start working with a rehabilitation therapist, psychologist, and speech therapist again. However, these trainings are the most significant part of our expenses.
We were invited to the House of Hope and told that they organize festivities for children with disabilities. We were afraid, because it is extremely difficult for our children to communicate with others. However, from the first minutes we felt an atmosphere of unconditional acceptance and incredible care for the children. We had never been to such activities before! Our children attended a cooking class for the first time! They listened to a Bible story for the first time! They painted a huge ark completely on their own! They had the opportunity to relax on a trampoline and in a dry pool!
Our children are happy, and we are very impressed with how sincerely we were accepted here and how sincerely we were taken care of. Thank you for the food packages and gifts for the children! You are incredible!
---
In a time of great uncertainty, God is bringing help, healing, and hope to the people of Ukraine through SGA-supported pastors, churches, a seminary, and SGA-sponsored Compassion Ministry. Be a part of God's incredible work with your generosity and prayer support.
Your gift of compassion helps struggling people with emergency aid that generally includes Scripture materials, food, medicine, warm clothing, and shoes.