Partners in the Gospel,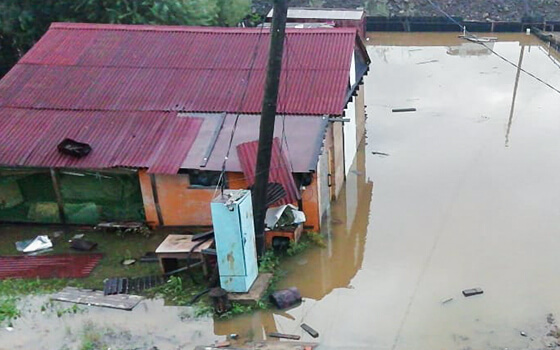 Today we were made aware of a serious flooding situation that has arisen in the city of Komsomolsk-on-Amur, located in the Khabarovsk region of Russia's Far East.
According to the TASS News agency, waters from the Amur River rose to more than 26 feet and partially eroded a protective dam. In addition, a dam on the Silinka River gave way. Torrential rain from Typhoon Lingling added more water to the region's already swollen rivers. Authorities say the rivers have not yet crested, and evacuations have taken place. Around-the-clock efforts are underway to protect the federal highway and airport, and coastal areas of the city.
SGA-sponsored missionary pastor Yevgeny Zaharchenko lives in Komsomolsk, and reports that many villages are flooded. The basement in his home is flooded, and while the local orphanages where his church ministers have not flooded yet, they have no water due to the situation. Thus far, more than 700 homes have been impacted, along with basements in 273 residential buildings, 30 schools, and an unknown number of medical facilities and shops. In the city of Khabarovsk, about 33 houses have been inundated but the Amur has started to subside.
TASS reports that forecasters expect further flooding between September 11 and 19, aand that the situation is "fairly dangerous." Please join us in praying that the rains and floodwaters will subside, and that there would be no loss of life. Pray for the protection of our partner churches, missionary pastors and their families, and the local orphanages where so much fruitful ministry takes place.
Thank you in advance!