The war has interrupted the lives of people all across Ukraine. But as you will see in SGA-supported Pastor Vitaly's report, the ongoing conflict has not interrupted the work of God's people to share the Gospel and make disciples. "We sincerely thank the SGA mission and all the sponsors who bless us so that we can share these blessings with others," Vitaly says.
God desires all men to be saved and to come to the knowledge of the truth (1 Timothy 2:4). And through your generosity and prayer support for the churches SGA serves in Ukraine, you, too, are about the business of the Kingdom. Praise God with us as you see His heart on full display in the ministry Vitaly shares about below.
---
Greetings in the Name of the Lord!
"Grace of God" church is grateful to the SGA mission for the help we have received. This is a great blessing for our church, as there are many people in our city who need food support. We thank you very much, because through your generous help we can help both our local people and displaced people who come to our church on a regular basis.
We are grateful that we can fulfill the commandment of Jesus Christ, preaching the Gospel, giving both spiritual food and physical bread in the way of food packages.
Every Friday, we have a registration at our church from 10 a.m. to 12 p.m. More than 600 people come to the church that day to get a special ticket and come on Sunday to receive food aid after the service. During the registration, there are some brothers from our church who have conversations with the people and talk to them about God and tell them about Jesus as well. In addition, there is some Christian literature prepared, which they are willing to take with them and read.
Thank you so much for your participation in our needs. We are sincerely grateful for your concern! May the Lord repay you a hundredfold.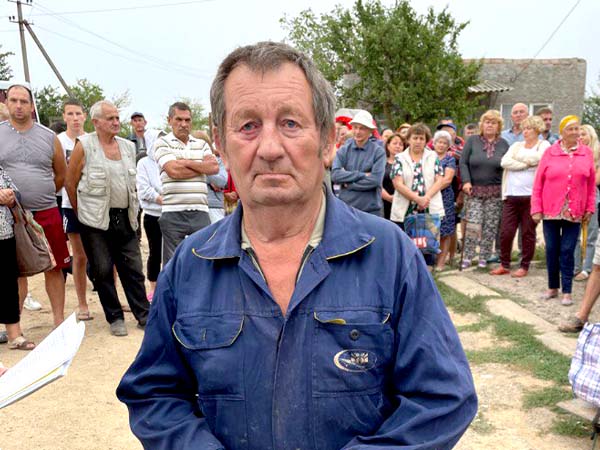 From the very first days of the war, our church, Grace of God, began to provide various kinds of assistance to people who started coming to the church. In the first months, when our city was under shelling, we were involved in the evacuation of people, and every day in our church basement there were more than 200 people who stayed for a certain period of time, because it was dangerous to stay at home. For almost eight months, we hosted people, fed them, and provided them with all the support they needed at the time.
From the first days of the war, we also started to hold two services on Sundays. After each service, we provided food aid to everyone who came to our church. So each Sunday we welcomed about 600 people. First, we read the Word of God to them, prayed together for Ukraine, and then they would receive food packages. Since the war, 15 people have been baptized. These are people who heard the Gospel during the war and whose hearts were touched by the Lord. Some of these people are IDPs.
Also, brothers from the church and I had the opportunity to travel to the de-occupied villages in the Mykolaiv and Kherson regions.
Today, our church continues to operate a hostel, where we welcome both IDPs and Christian brothers who come to our region with a humanitarian aid mission and stay overnight. Our church has hosted many people who have received various kinds of help during the war: food, moral, and physical support, and most importantly, they have heard about God! His Word strengthens the best way and gives strength to every person who receives it!
We sincerely thank the SGA mission and all the sponsors who bless us so that we can share these blessings with others.
In His love,
Pastor Vitaly
Translation: We are grateful to the church, grateful to everyone who helps us in difficult times. We are IDPs from Kherson, so there is always a need for products. May the Lord bless you all!
Translation: We are IDPs, and we are sincerely grateful to all the church ministers for your help, for all your support, for your kind words. May God bless all the people who work here and we thank Him for everything!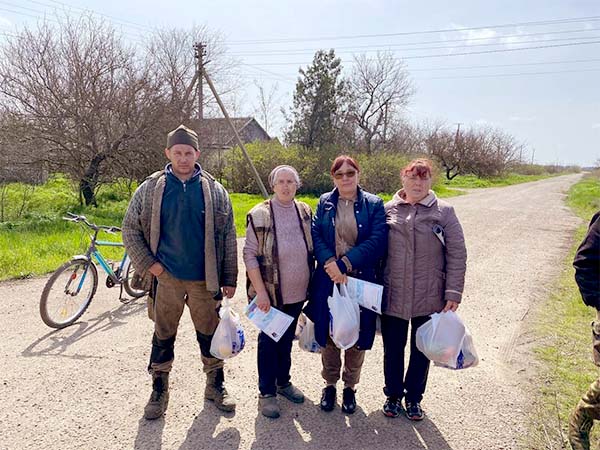 In a time of great uncertainty, God is bringing help, healing, and hope to the people of Ukraine through SGA-supported pastors, churches, a seminary, and SGA-sponsored Compassion Ministry. Be a part of God's incredible work with your generosity and prayer support.
Your gift of compassion helps struggling people with emergency aid that generally includes Scripture materials, food, medicine, warm clothing, and shoes.