A woman in the farthest ends of the earth prays and pleads . . . and God answers!
Eric Mock
Vice President of Ministry Operations
Earlier this fall, I had the opportunity to be in Far East Russia to visit and encourage missionary pastors in the region through SGA's Reach Russia Now initiative. While there, I heard Pastor Rostislav's story. I wish you could have been there!
He told me about how your gifts and prayers through the SGA-sponsored Antioch Initiative have helped reach spiritually barren villages in Far East Russia—many of which have never heard the Gospel or have had only limited exposure.
Rostislav was once a police officer. He retired so that he could be full time in ministry. He was able to take part in the SGA-sponsored Antioch Initiative training (intensive Bible, ministry, and discipleship training) for leaders in order to multiply the spread of sound churches in the vast Russian mission field. Another missionary named Anatoly came up to Rostislav during the classes and invited him to bring the Gospel to the villages in his region. Anatoly wanted to serve there himself, but as yet no doors had opened.
Only Five Churches in Over 100 Villages!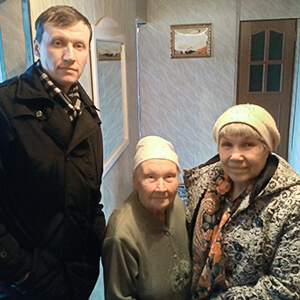 They began to pray together about missionary ministry. They both lived in Birobidzhan (Russia's Jewish Autonomous Region) and had a heart for reaching unreached villages. They did research and found 110 villages and two cities. There are only five churches in their region and no church in more than 100 of those villages, and no access to the Gospel!
In fact, a woman from one village called and informed the brothers that a church had begun there briefly 10 years ago, but now they have nothing.
Desperate Conditions Include Hunger for God
She pleaded, "Please come and bring the Word!"
The men kept praying for these villages, and this year they began travelling to visit them with your support through SGA. And they've found that the conditions are terrible: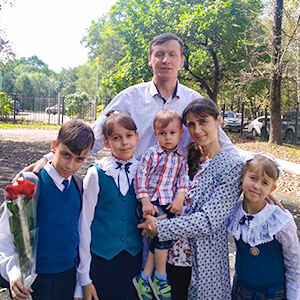 Kids with old clothes and no shoes.
Children who are hungry and neglected with alcoholic parents.
A 10-year-old girl named Dasha in one town whose mom was living with her fourth husband.
They started helping Dasha with homework, food and Bible teaching. Through this, the parents finally came to meet them last month. Then last Sunday, the parents allowed Dasha to take the bus to the city and attend Rostislav's church. Small steps, but God is at work!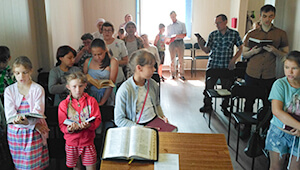 With only six people now gathering together, a foundational group is forming. Very slowly, people are drawn from darkness to the light of hope. With the help of SGA partners, these men are going to dark, lost villages with the light of the Gospel. Their goal—110 villages with the light of Christ shining in the darkness. Through your support of these pastors and SGA's Reach Russia Now initiative, you are right there with them!