A report from the SGA-sponsored Compassion Ministry team in Central Asia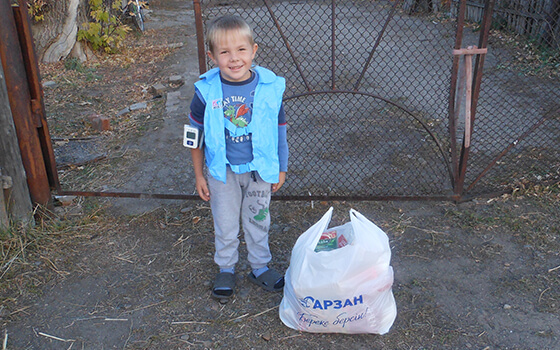 Not long ago, we received a report from Oleg, an SGA-sponsored missionary pastor in Central Asia. He visits needy families in his region, distributing food and other aid when possible. His short note describes the desperate conditions in which many of these families live. …
We thank the Lord for you and for the SGA Compassion Ministry you help make possible. Thanks to you, we are reaching five families in our village every month.

Many adults and children do not want to be photographed with the food packages, but some do not mind … we never insist on it. One of the families we visit is the Chishkovskiy family. Vika's husband left her and she has three children to raise on her own. It was such a shock for her when it happened. Then, not long ago, her mother and her mother-in-law both died.

This is such a hard and difficult time for Vika and her children. But we visited her, gave her a Russian-language Bible, and talked with her about spiritual matters. We also left her with a copy of the JESUS film. Please pray for her salvation and that of her children as we continue to minister Christ's love.

Vika's family is just one of thousands across the former Soviet Union who are trapped in desperate poverty. And in so many cases, loving Christians are the only ones who reach out to them in the love of Christ to help. Thank you for your prayers and support of SGA-sponsored Compassion Ministry. You are truly making an eternal difference in many lives!