Here is a report from SGA-supported Pastor Oleg, who has been faithfully ministering to the physical and spiritual needs of people in his community for many years now. Pastor Volodymyr also sends his warmest greetings, as he reports from a region and city that have come under increased assault due to their strategic position.
With the advent of the war in Ukraine, the ministries of these servants have only grown. And the generators and warm blankets that generous friends like you have provided through our Ukraine Heat and Hope Campaign have become absolutely critical to their outreach and survival.
Please pray for these two shepherds and their flocks as you read their messages of gratitude — and rejoice in what the Lord has done so their ministry can continue.
Oleg:
The [church] is very grateful to you for the generator and blankets. This is a timely and relevant help for our ministry. For us, it is a manifestation of God's mercy and care. In our church building we have a family of four people, so we always need to provide heat. There are also five days a week, we have various activities and ministries, including Bible study groups, teen socials, and Sunday school. It is necessary to maintain the temperature all the time so that the ministry can continue. It will also help us to serve people in need, those who live near the church. Over the past six months, when the electricity has been off for several days, people have asked if we had a generator to heat water to stay warm and charge their phones. God knew about our needs and answered our prayers! May our Merciful Lord bless and guide you in your ongoing ministry for His Glory!
Volodymyr:
We thank you from the depth of our hearts for the generator and the blankets. They are much needed at this time. Our power is on — for three hours during the day and three hours at night. Our gatherings were held briefly. We have electric heating (two air conditioners). The conditioners work, and it is warm. Praising God for His blessings! Blankets were given to several families with many children and to widows and older people. They were very grateful for the blankets. May God bless you for your great ministry and love!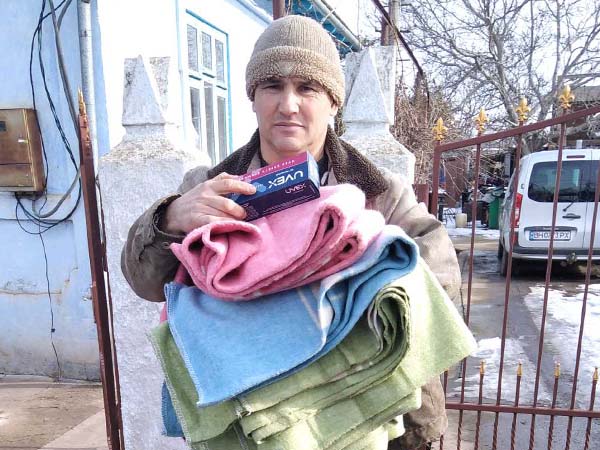 In a time of great uncertainty, God is bringing help, healing, and hope to the people of Ukraine through SGA-supported pastors, churches, a seminary, and SGA-sponsored Compassion Ministry. Be a part of God's incredible work with your generosity and prayer support.
Your gift of compassion helps struggling people with emergency aid that generally includes Scripture materials, food, medicine, warm clothing, and shoes.