Luda Yatsko
Orphans Reborn in Ivanovo, Russia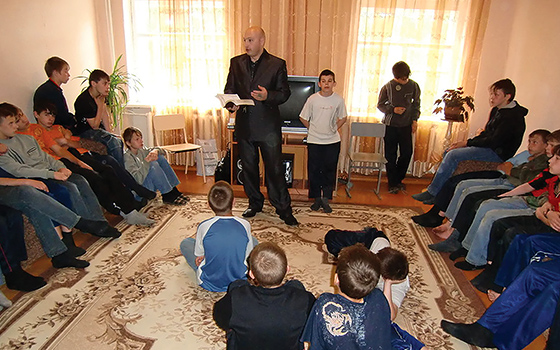 Last Christmas, SGA partners helped make it possible for us to visit 12 orphanages and boarding schools, distribute 585 Christmas gifts to the children, and travel a total of 1,200 miles to all the locations.
At one of the orphanages, I was approached by one of the caregivers who asked me about the other places we were planning to visit. I told her that we visit places where we have been invited. Another woman listening told us that she also worked as the director of a local Community Center, and she invited us to hold a Christmas program there as well. The only spare day we had on the schedule was New Year's Day, so we agreed to hold another outreach for these children who are from disadvantaged or dysfunctional families in crisis. That led to us having a standing invitation—whenever we go to that orphanage for ministry, we are invited also to hold a program in that Community Center for local children in that area as well. God also opened doors for us to have outreach among the townsfolk.
Out ministry can even have impacts down the road that we do not expect. Back in 2014-2015, we went to a village for our Christmas outreach and met a young mother and her children. As it turned out, she now works as the director of the local Community Center and House of Culture. She had been trying to find us since then going from church to church, asking the village administration. She finally located us, and we quickly agreed to hold a Christmas program in her Community Center this past January. It brought together children of different ages, from families with large numbers of children, from single-parent homes, and from very poor families. There was some opposition from another religious group who forbade the woman from inviting the Baptists in. But when she asked the priest to hold a program for the children, he replied, "Am I a millionaire, or what!?" Today, this lady and her family are attending the local Baptist church! We praise God for His work in many hearts.
Editor's Note: Immanuel's Child integrates with other SGA outreaches such as Orphans Reborn to form a web of ministry to bring people to Christ and grow them as His disciples. Here is a good example from Luda Yatsko, from last year's Christmas outreaches!