Summer Camps Reach Children —and Their Parents —for Christ
As we prepare to begin a busy summer camp season across the countries of the former Soviet Union, we want to share with you what Pavel reported after last summer's fruitful time of sowing seeds in young lives.…
Summer is the busiest time of the year for us. This past summer, during the first month of the season, we held one of our biggest camps. It was amazing to have 130 kids on the first day, and the number of kids continued to grow every day!
Eighty-five percent of the children who attended this camp are from unbelieving families. Through our ministry to the kids, we are trying to reach their parents for Christ. This method works very well. We had many parents show an interest and come to church during the summer camp.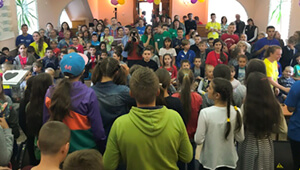 Our church building is small, and because we had so many kids and their parents, it was completely packed inside. We tried separating everyone into a few different groups with some having classes outside and some having classes in the basement. But when it started to rain, everyone had to go indoors, and there was not enough space inside.
This is a good problem to have! During the last few years we have been praying for the opportunity to build an extra building for Sunday school and for youth and children's activities. Please join us in prayer for this.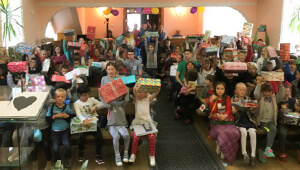 Most of the kids who attended the summer camp were picked up with our church van from different villages and brought to the church. Because of the great distance that many of them traveled, we needed to feed them every day. We give thanks to the people who donated food for kids' ministry and for food so that we could carry out our program.
At the end of the camp, we had the opportunity to give small presents to each child. The young people were so excited to receive these gifts. Most of these kids come from very poor families, so these items will be treasured by them for a long time!