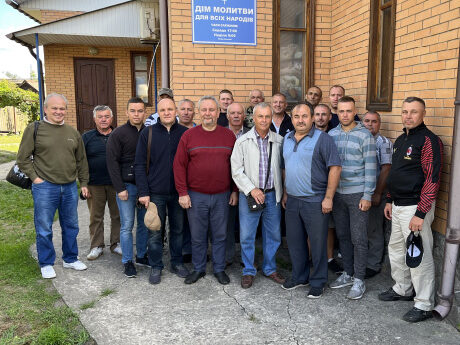 What follows is a firsthand report from SGA team members Sergei and Lydia. They travelled to a Ukrainian region under continuing attacks so they could be present when humanitarian aid arrived and was distributed. Please consider the many wonderful testimonies from SGA-supported pastors that they have gathered and share here with us. This is God's work of grace among a war-torn people.
Greetings, dear friends!

We would like to share with you our last trip to [an embattled region of Ukraine]and tell you about the brothers' ministry near the border, and share some photos. They will tell you more later in their reports, as they promised.

On the way to our destination, we passed frequent checkpoints with occasional ID checks as we got closer to the border. Traveling to such dangerous locations is always inspiring because there we have communication with real brothers, not virtual pictures, but we see the real eyes of ministers who may be tired from hard work, from lack of sleep, but they burn with their ministry, their love for the Lord, for people, not fear of war, and the Lord is always with them and leads them all in this ministry in a special way!

The pastors say that part of [this] region has been under occupation for more than a month, the border villages of the region are still shelled almost daily with various weapons, and some of the infrastructure in the region has been damaged. After 40 days of occupation, on April last year, the [invaders] were driven out from the territory of the unconquered region. After all, in half a day, the region, which was supposed to become a transit area on the way to Kyiv, became a "bone in the throat" for the occupiers . . . Though the region was de-occupied on April, 2022, but this did not give the locals a feeling of security. The border with the enemy is six miles away, and the shelling does not end. But people there don't give up, they continue to rebuild their houses, plant gardens on their own and time for a harvest now. The brothers who are serving in this region of Ukraine were happy to meet with us and briefly tell us about their ministry and thanked SGA supporters for the food aid. This is a great blessing and support in times of war!

Sergei & Lydia
Sergei – Regional Pastor
My name is Sergei, and I am a senior pastor. First of all, I would like to sincerely express my gratitude to SGA for cooperating with our churches. We are grateful that together we can serve the Lord and help people in our northern region of Ukraine.
With the beginning of the invasion of our region, the northern part of our region was under full occupation. For more than a month, no one had the opportunity to leave or escape from there. There was a great need for food, people were looking for food. There was no fuel, no food. It was a difficult period at that time. But even in the most difficult time, there were those among our believers who were dedicated to the Lord, who risked their lives to do voluntary work.
The occupation of the region lasted about 1 ½ months. When the [invaders were] driven out, we started working with churches as the priority. Before that, we had mainly phone call communication in the ministry, but now we decided to meet more often as a brotherly extended council to know and hear the needs from all over our region. At that time, the most significant destruction was in a town near the border. The town was also destroyed. The [invaders] had been staying there for some time. The House of Prayer was also partially destroyed there. The house of the pastor, who had died of covid before, was also completely destroyed. Therefore, we paid attention first of all to our brothers and sisters, how we could help and serve them. The house of the pastor's family has already been rebuilt and his family is living there now. Praise the Lord!
The church cannot stand aside, because we see that many people need help. We have been looking for ways to help them on our own. But we must also preach the Gospel to people. This is our first and most important responsibility before the Lord. The border area of our region, the northern part, is under special control and we cannot go everywhere that direction. There are some churches with which we have almost no contact. Not everyone, even ministers or volunteers, will go there now, to be honest. People are afraid to risk their lives. Every day there is shelling. There is nothing left of villages and towns. It's a difficult situation!
There are 70 churches in our Baptist association today, but 30 of these churches have only about 10 members. These are small rural churches. But they need our help more than anyone else today. Therefore, my brothers and I decided that the big churches should support and take care of the small churches. So, brothers go to these small churches and bring help and everything they need there. I will share with you some statistics. For example, in 2021, less than 40 people were baptized in the whole region. In 2022, 47 people were baptized. In 2023, despite the situation in the country, more than 80 people were baptized and joined our churches. And there are still those who want to join the church. There are many repentances. Therefore, there is a lot of ministry and hard work, and we pray that the Lord would give us strength and resources and send brothers for this ministry!
One of the churches here where we are now, had only 12 members not long ago. Now they have 70 seats in the church and it's not enough because people are coming more and more. We could share a lot of stories about our ministry. Unfortunately, many potential and active ministers with their families left our region, our large churches. But from small churches, people hardly leave. With these people we are holding small services on the local level so that unbelievers could come to the House of Prayer and listen and pray with us.
So, thank you for the great efforts you are doing, dear friends, in the presence of our Lord! I sincerely thank our sponsors for the help we have today. Blessings to all of you in your further ministry! May the Lord be glorified!
Brother Victor
Brother Victor, please tell us about your ministry, about the ministry of your church during the war.
First of all, I would like to thank everyone who takes part in this humanitarian mission in Ukraine. It is not only for the churches of Ukraine, but also for the needy people who suffer a lot from this war. We have never asked anyone for this help before, but now we extremely need this help.
At the moment, we continue to take care of those people who were forced to move away from the border to our area. People come and ask for help themselves because they know that the church gives them bread. And for them, bread is the Word of God. This is our main ministry for such people now, to invite them to church services. They listen with interest to the Gospel reading, and then we talk with them, treat them with coffee and tea. About 25 families come to us regularly, and we meet with them and communicate with them.
All these people have found a place to live in our area and rent it for their families.
Our church has 56 members. During this year, seven people were baptized and joined the church. Also, thanks to the food aid we receive from your mission, people come, listen, share their problems, and repent. For today, 23 people who came for help have repented. But of course, we cannot baptize all of these people, because they are not prepared spiritually yet. But we continue to communicate with them and pray that the Lord will change their lives and hearts. I also have another job, but serving the church and people takes more time than my job. So, I thank the Lord that I can serve Him!
We go to the border villages less now than we used to because we are not allowed to go there anymore because of the constant shelling of those areas. Before, when we went, we knew many people and could gather in groups and we would study the Bible and distribute food to them. We always put a Gospel in each food package so that people could read it themselves. Now we are forbidden to go like that. The five-mile zone from the border is only permitted with special passes. The one-mile zone was completely evacuated. In one of these villages, there are only 20 people left, when there used to be 800. . . .
This is a sad story of our life here, this is our reality. And we have to go on living, not getting tired of praying to the Lord, asking for the protection of our families.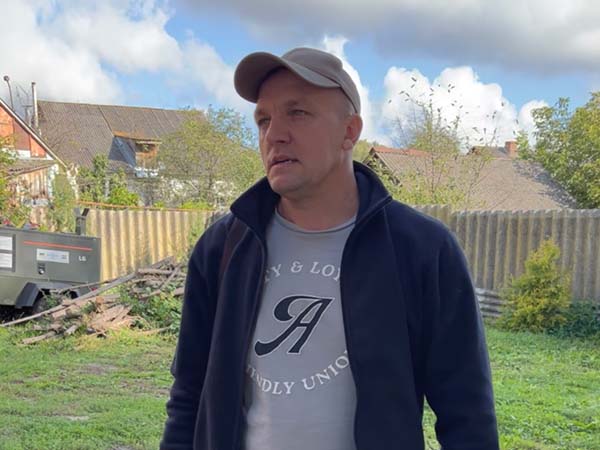 Brother Olexander
I am the pastor of Grace Church. The church has about 100 members. We also have three daughter churches, and I serve there. In our church I am responsible for social ministry, and Mykhailo is the pastor of Grace Church and also an SGA-supported missionary). We do ministry for the most vulnerable people, the disabled. We hold meetings for them once a month, providing help and sharing the love of the Lord. These meetings attend 150 to 200 people with various physical disabilities. We bring all these people and encourage them to communicate, so that they could spend some time outside their homes, see other people, be open and tell about themselves. After all, many of them are isolated in their minds and cannot even talk. As always, we pray with them, then feed them hot meals and distribute food packages. Thanks to this help, they can save a little money and buy medicine or something else.
I also do ministry near the border. People can't leave there, they don't have the opportunity and don't want to. Most of them are elderly people, so we organize a prayer meeting for them every Sunday. We also visit and provide aid to people who are staying at home (the elderly, the disabled), who do not go out at all because they have no family members around. So they call us and we come to them. We also have another church, also near the border, and we go there and hold services there as well. And if possible, if we have food, we bring it for them. The next small church is in [another village]. All these villages are not far from each other, and as long as the Lord gives us the opportunity, we go there to encourage our elderly members of these churches. We are doing everything we can to share our ministry with you. And we thank you for your work, for your generosity and dedication!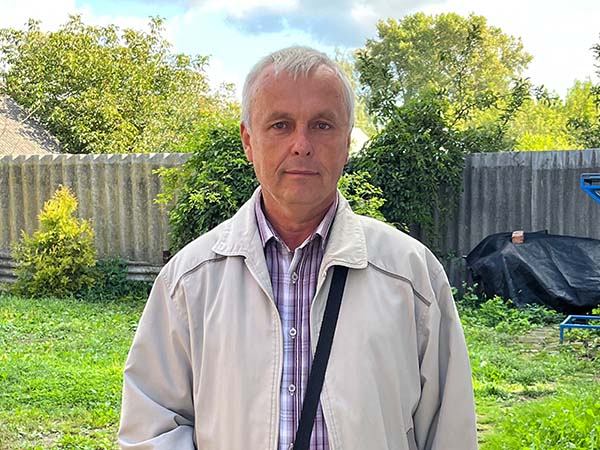 Brother Anatoly
I serve in the Grace Church,. The war brought many changes to our church. Many of the active church members and their families left for Europe or the western regions of Ukraine to provide their families with the necessary things. We now serve in a new environment. Therefore, thanks be to the Lord for the food packages we receive from many sources, including the SGA mission, we are able to serve unbelievers. Many people whose loved ones or relatives are at war, they come to us. They are very depressed, they are constantly stressed, they need our help as Christians! They want someone to sympathize with them, to talk to them, to pray for them, for their children, for their well-being. Therefore, such help from you and us only helps us to be closer to them, they not only hear our words, but see in practice how we help them. During the week, we also meet with them and have time for them. They have Bible studies and feel a family atmosphere in the church family.
There hasn't been any repentance yet, although people come all the time, sometimes 20 people at a time, but their time hasn't come yet, I think. God has His own time for their personal salvation. So we are doing what we have to do, and the Lord will do the rest. The help from SGA helps us to bring the Gospel to such people at the same time. After all, financially they are in very difficult conditions, limited in their possibilities, and so you participate with us in the evangelization of these people. We also give them the example of Christ, when He fed the crowd with bread, but also told them: do not seek and do not worry only about daily bread, but seek spiritual bread. Since then, the world has not changed and people have not changed. They continue to live in two dimensions and think more about earthly things.
We are sincerely grateful to you that God encourages your hearts to help, to sacrifice, to organize, all for our people, to support their physical needs. May God be glorified and exalted through your ministry! Amen!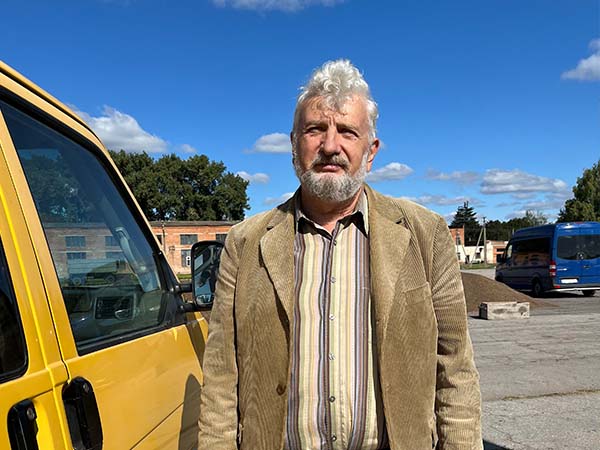 Brother Volodymyr
The fighting [here], which is 31 miles from the border, began on the first day of the war and did not stop for almost a month. The 48-thousand-strong town became one of the most affected in the region. After all, [the invaders] dropped three vacuum bombs on it, it was shelled with rockets and bombed, a power plant and a number of other facilities were destroyed. We have recently formed a new church. We have few church members, but those who are there are witnessing Christ to unbelievers. Many people come to us not even for food, but just to listen to the Word of God. They say so about it themselves. Before people were hiding, no one wanted to come to us, but now, on the opposite way, people are coming to church. There is repentance and we believe that the Lord will continue to work in the hearts of these people.
Our first church was badly damaged, a shell hit it, (you can see it on the video above). Now we are renting another building. It is a little more expensive, but it is better. God blesses us here in serving Him and people. "For in him we live, and move, and have our being.."
Thank you especially for your hard work, friends, for your kindness and sacrifice. May the Lord in His mercy reward you a hundredfold! God bless you!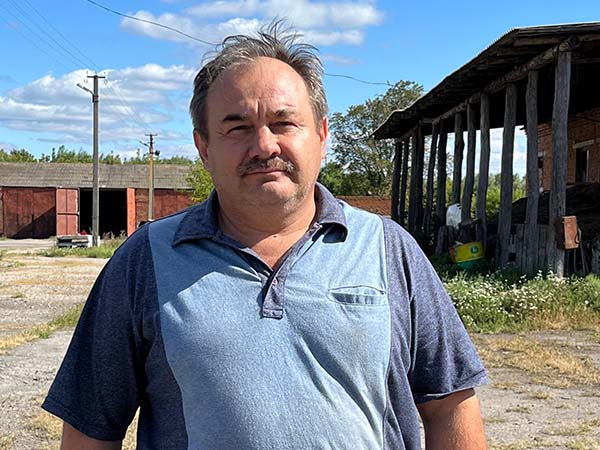 Brother Olexander
My name is Olexander and I have a ministry in [a town in this region]. Our church is almost on the border. It is about four miles away. We hear the shelling every day. From the very first day of the war, we decided as a church to pray to the Lord for peace and to fast every day. This is how we have been doing it to this day. Therefore, every morning we gather as a church for prayer. At the very beginning, few people came to our church, and over time, when the shelling did not stop, people began to come to church out of fear. On Sundays, we have 30 to 35 church members and 80 to 85 non-believers at worship. People come to hear the Word of God, pray, and share their concerns. Every Sunday, I emphasize in my sermons to the church members and to non-believers that this day or tomorrow may be the last day in our lives. Therefore, we must always be ready to meet the Creator as we have never thought of it before. After all, we have already had a number of stories when unbelievers came to the service, listened to the Gospel, and then their lives were taken by an e[invaders'] shell or bomb.
We are grateful to you for the food aid, because people realize that they are not alone and that they are supported and cared for far abroad. They even realize that there is a God and that it is only He who cares about them so much. It's so good that we have something to give to these poor people today, to share with them.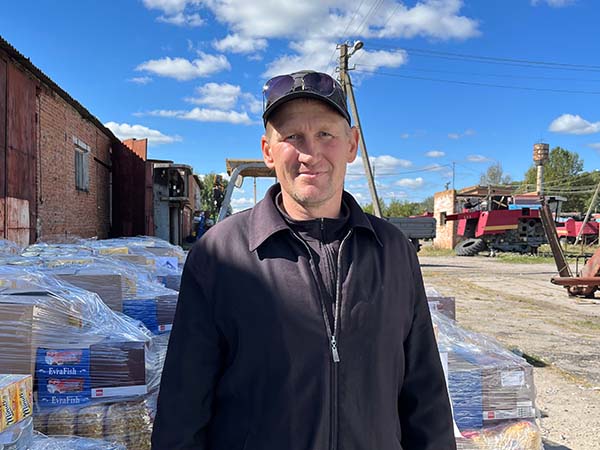 Brother Dmitri
My name is Dmitri, and I am a pastor of a church in [this] region. The church is not large, we have 20 members. We have four Baptist churches in our town. We often get together to minister to unbelievers. People who used to live on the border are moving to us. We always have a lot of ministry with such people, because they have nothing with them. Only wounded hearts and souls. Our town was also constantly shelled and occupied for almost two months. There was nothing in the stores, it was impossible to get food anywhere at that time. Later, when the [invaders were] driven out, food aid began to arrive and it became a little easier.
This year we had a baptism, 13 people joined the church. Thanks to this aid from our friends and sponsors, people come to church and some of them repent and get baptized. We thank the Lord for you, for your sacrificial dedicated ministry. God grants salvation to sinners through such terrible trials for our country. He knows them by name and is waiting for them to bow down before Him. Thank you again!
---
In a time of great uncertainty, God is bringing help, healing, and hope to the people of Ukraine through SGA-supported pastors, churches, a seminary, and SGA-supported Compassion Ministry. Be a part of God's incredible work with your generosity and prayer support.
Your gift of compassion helps struggling people with emergency aid that generally includes Scripture materials, food, medicine, warm clothing, and shoes.