Recently, humanitarian aid provided by SGA/Australia blessed Pastor Ruslan and his congregation in their outreach to suffering Ukrainians. As you read Ruslan's report, notice how he reminds us of the ongoing need: "The war is not over, and the number of internally displaced people is growing."
Yes, the need is simply overwhelming, so we are grateful for this wonderful support from SGA Australia. Read more from Ruslan . . .
Greetings to you all, dear friends in the Lord!

I am the pastor of Grace Church. We are sincerely grateful to SGA for the food aid. Such support from you gives us the opportunity to serve all the displaced people and others not only socially, but also spiritually first and foremost. 

From the very beginning of the occupation of our country, our church has been actively involved in helping and distributing food to all those in need. The social ministry of our church covers not only adults, but we also have programs for children: we have Bible lessons, meetings, communication, games, and shared dinners, helping children and adults find support and hope in difficult life circumstances. Up to now, our church has demonstrated great commitment and awareness in the work of social ministry. The church's ministry has a positive impact on the lives of many people in the community, providing much needed help and hope in this difficult time. 

Most of the people who come to our humanitarian aid center of Bethlehem Church meet with the church members for the first time, but after receiving help and prayer support, they leave very positive responses about us. Most of them begin to visit the church on a regular basis and even help in unloading the humanitarian food aid. According to people's responses, they are radically changing their attitude toward the church and God.

Most people are surprised that in this difficult time (and now most humanitarian organizations have been closed and are not able to provide the aid) our church continues to distribute food aid, which people need on a regular basis. The war is not over, and the number of internally displaced people is growing. People always thank the mission and all the sponsors for the help they receive and wish God's blessing to everyone who helps!

Together in ministry,

Ruslan
Testimonies: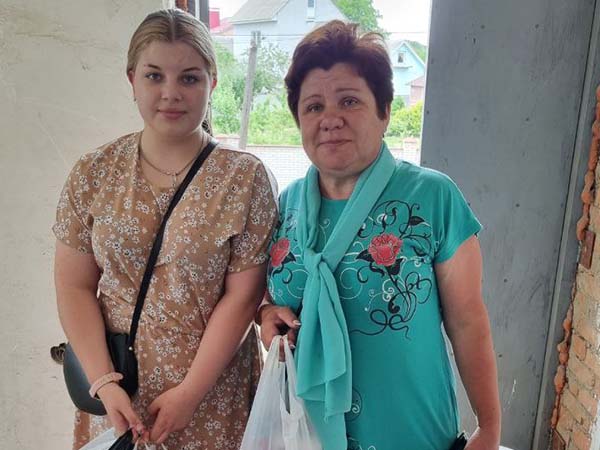 Tetiana and Alla
We came from the Kherson region. Our village is being shelled every day from the left bank. There has been no electricity for almost a year. When the shelling became more frequent, we started living in the cellar. Because of the danger and lack of living conditions, we decided to leave. The war had a negative impact on our moral and psychological condition. We lost our jobs and housing because the boarding school where we worked was bombed. When we moved here to this village, two of our families stayed together in an old house without any conveniences and proper conditions. We need money to rent a place to live, but I can't register anywhere except as an IDP [internally displaced person]. We also have a big dog and four cats living with us. But, we sincerely thank God for everything: for His mercy and are grateful to all those people who continue to support and help us in such a difficult time for us.
Maryna
My daughter, who was 9 years old at that time, and I left Nova Kakhovka, Kherson region, almost a year ago (the Kakhovka hydroelectric power plant was located in our town). In September, my husband came to be with us. In October, he was drafted into the Armed Forces of Ukraine. He was seriously wounded in Bakhmut while he was in the front line. After recovery, he returned to his military service. Our city, and all our property, is still under occupation, destroyed and damaged.
Now we are renting an apartment in [a different] village. I work, my entire salary covers the rent, and my husband's salary is used for his treatment, rehabilitation and purchasing everything he needs, because the army gives them very little. Although we have settled down a bit in a year, we still need food, cleaning products, hygiene products, some clothes and shoes, and we are very grateful to the church and sponsors who provide us with these things. Thank you so much for your concern!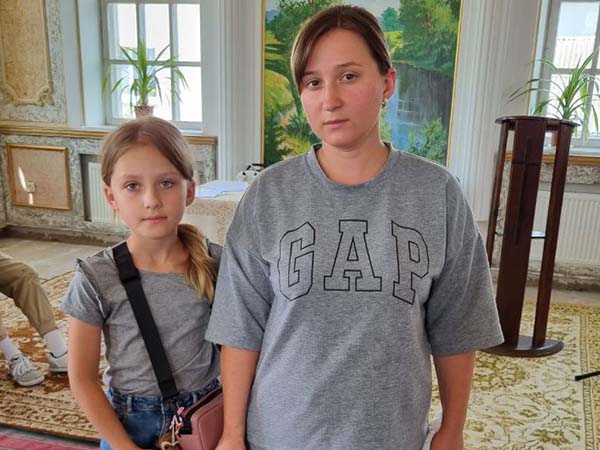 Anna
We are from the village of Hornostaivka, Kherson region. We fled with our children. It was hard to leave. It took a very long time. When we entered the gray zone, we came under fire, but it was just a short time and we could leave. It was very difficult to live under occupation, especially when you have small children. It affected us emotionally.
Now we live in [a different village], renting an apartment with good conditions. I am very grateful to God and to you for your help and support.
---
In a time of great uncertainty, God is bringing help, healing, and hope to the people of Ukraine through SGA-supported pastors, churches, a seminary, and SGA-sponsored Compassion Ministry. Be a part of God's incredible work with your generosity and prayer support.
Your gift of compassion helps struggling people with emergency aid that generally includes Scripture materials, food, medicine, warm clothing, and shoes.