Editor's Note: The images below were provided by an SGA-supported church in Ukraine.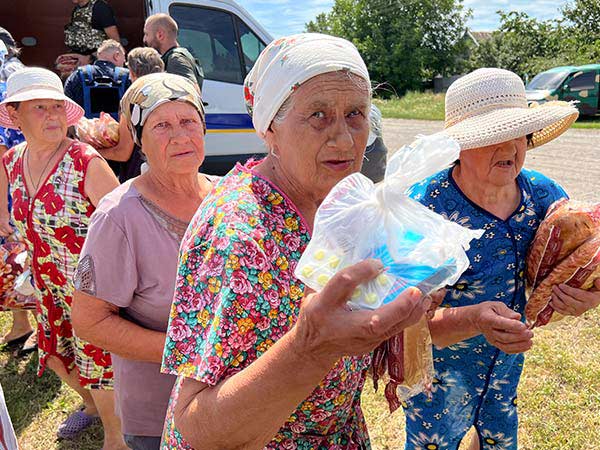 As villages continue to be bombed in Ukraine, many of the most vulnerable are left behind, or simply unable to leave. Yet there are people of God who remain behind as well, on mission for the sake of the Gospel. One pastor and his church describe visiting a nearby village to distribute food and aid. During his visit, he poetically describes how an old well at the church drawing villagers who needed clean drinking water is a beautiful representation of Christ's words in John 4:13-14: "Everyone who drinks this water will be thirsty again, but whoever drinks the water I give them will never thirst. Indeed, the water I give them will become in them a spring of water welling up to eternal life."
"Greetings,

Yesterday we went to one village where about 4,000 people remain. Most of them are older, disabled, less privileged, and do not want to leave their homes despite the constant shelling. Every day the town is under fire and suffering attacks. The streets are empty. Yet we distributed 250 food packs, 200 hygiene kids, and 200 first-aid kits during our visit.

When we were distributing hygiene products and medicines on the outskirts of the city, a shelling started, and (as evident in the photos) people were taking their food in haste only to go back and hide in their homes.

We also visited the local house of prayer. Services are not being held but thank God the building remains intact. There is an old well here and it serves as a sermon without words: the citizens from nearby areas come to the house of prayer to get clean drinking water.

We were glad to serve the people here at this village together with you for the Glory of our Lord Jesus Christ!
In a time of great uncertainty, God is bringing help, healing, and hope to the people of Ukraine through SGA-supported pastors, churches, a seminary, and SGA-sponsored Compassion Ministry. Be a part of God's incredible work with your generosity and prayer support.
Your gift of compassion helps struggling people with emergency aid that generally includes Scripture materials, food, medicine, warm clothing, and shoes.