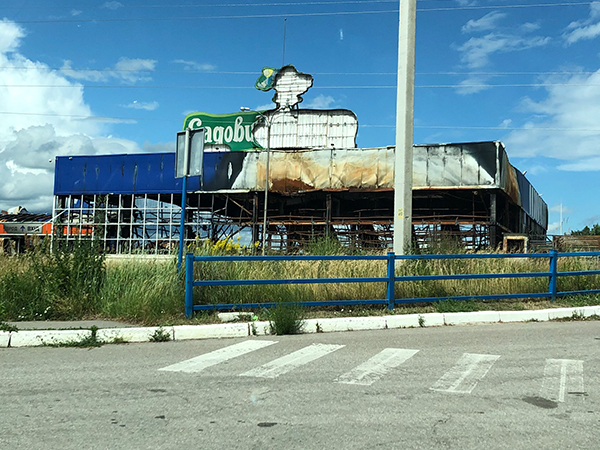 The words below come from Lydia, an SGA team member in Ukraine. She travelled to one of the shipment locations to meet the food aid cargo shipped from Poland for distribution and speaks from her heart of what she saw and experienced. Lydia was also able to meet with the SGA-supported regional pastor and has shared his words as well. 
Please continue to pray for the people of Ukraine, who are trying to regain some kind of normalcy after having lost so much and even now still face the possibility of more destruction. May all of our hearts "weep and sympathize with them!" And may many continue to be reconciled to God even within the destructiveness of war.
Read more from Lydia . . .
Blessed is life when it is under the Lord's protection! I realize this all the time when I see and hear about terrible news from different dangerous places in our country. This time I had the opportunity to visit a city that was under siege for 40 days at the beginning of the war and is now slowly recovering and coming to life. It was nice to meet the cargo from Poland, to talk to the team and volunteers there who helped unload the cargo. 

I had the opportunity to meet with Volodymyr, the regional pastor, and talk to him. It was also a great opportunity to get a ride through some of the streets of the city, where the consequences of the shelling were clearly visible, and where most of the houses are still unrepaired, and some houses or buildings are not rebuildable at all.Many people have already returned home here to live and work, although there is a great lack of jobs for many people in the city. 

One of the churches holds two services every Thursday for all those in need, for those who fled away from the border with Russia to closer areas near this city. These people are always invited to the meetings where the Word of God is read and food packages are provided. You can see the grief in the eyes of these people who seem to be at home, but they will never forget the horrors of those days. After all, so much of what people valued and had in the past—before the invaders brought death to their city—has now turned into ruins and a pile of stones. I cannot feel what they felt and experienced. But my heart weeps and sympathizes with them!

Regional Pastor Volodymyr says:

"I would like to greet you, dear friends, from SGA. I would like to thank you for all your support and for this shipment that came today! We worked with SGA before the war and now we also have missionaries who are supported by SGA. Your support was—and still is—especially obvious during the war. So, thank you very much! I would like to tell you a little bit about our ministry here in this city and the region. Today there are 60 churches in our region. There were 59 churches, but during the war a new Bible Church in our city was organized, and this is the greatest blessing!" 

Question: How many believers and ministers have left the city and the region since the beginning of the war?

"It is difficult to say the exact number for the whole region. But if we talk about large churches and specifically about the central church in this city, one third of the church members have left the country. In other words, if we had 300 church members before the war, today we have 200. In the region, we had about 1,600 members of our Baptist churches before the war. Those Christians who fled during the war are now returning to their homes. And this makes me happy.

"We do not have too many displaced people here because we are a border region. Therefore, we travel to the villages that are close to the border and where people have remained, and there we witness them on the streets and distribute food aid and New Testaments.

"During the war, our regional association opened a humanitarian center in the downtown area of this city, in a rented building. This is how we helped people who needed help during the war, during the shelling.

"Today we have some difficulties because there is a lack of ministers. Because quite a few pastors and deacons have fled. There is a lot of work and ministry, and it is constantly growing, because the number of people in need is not decreasing, but increasing every time, and there are few ministers left. This is the main problem. Another great challenge is that the houses of some Christians and some churches have been destroyed.

"For example, our central church here was partially destroyed. A shell hit the courtyard of the House of Prayer, and the building was half destroyed. The second Baptist church was also damaged, three shells hit it: the first and second floors were destroyed there. These are the challenges we are facing now: first, with the restoration of housing for the believers, who suffered and secondly, for the Houses of Prayer."

Question: How do people react when you witness to them, when you share the Word of God?

"People certainly became more open and vulnerable during the war. There are those who repented during the war and are preparing for baptism. When we ask them what motivated them to turn to the Lord in repentance, many of them respond with one word: the war! During the war, they heard about the Lord, they received necessary food aid, and many hearts were touched by God. Therefore, we understand that for many people this war brought reconciliation with God, and this is the most important thing for us, His servants. I am grateful once again to all of you and sponsors for your help! May the Lord be glorified in everything!"
---
In a time of great uncertainty, God is bringing help, healing, and hope to the people of Ukraine through SGA-supported pastors, churches, a seminary, and SGA-sponsored Compassion Ministry. Be a part of God's incredible work with your generosity and prayer support.
Your gift of compassion helps struggling people with emergency aid that generally includes Scripture materials, food, medicine, warm clothing, and shoes.