A Bible worn is a Bible read! In the story below, it was a worn calendar that proved the verses within had been the words of peace to a family in need. God's truth, in whatever form, fills our hearts with the peace that only He can give.
This story comes from our storyteller, Tatiana who serves alongside of her husband Ilya in Azerbaijan. Ilya is the president of the Baptist churches there and a faithful pastor as well. Be encouraged to see God's hand at work in young lives through His servant Ilya and then watch the video of children reading from the Word below . . .
"A year ago, as I was returning from Baku with the team after holding the Immanuel's Child event, I saw a woman flagging down a car. She looked tired. As she explained later, she was looking for a job, but to no avail. It turned out she was not officially married and that she had a daughter. After the man's death during the second Karabakh war, she was not eligible for any benefits. So, I gave her a ride and all the food I had in my trunk, a Christmas gift, and Christian books.

"As we arrived, we were met by the woman's mother, grateful for giving a lift to her daughter, and invited us for tea. The family was made of elderly parents and two adult daughters, who were both left without husbands. The older daughter, whom we met on the road, had a daughter of 12 years old, and the younger has two girls aged 10 and 7. Though we were limited in time, we stopped by for tea and shared the Gospel with this household. On that day in January 2022, I also gave them a Christian calendar in the Azerbaijani language with verses from the Bible.

A year later, with the other team, knowing that we would go through this location, I stopped by to visit them, this time with a gift of groceries under the [SGA-sponsored] Compassion Ministry. We were greeted and welcomed as close relatives. While visiting, I noticed an old calendar on the wall. Judging by its shabby look and dog-eared pages, I realized that it did not just hang there—it has been read! During our conversation, I drew their attention on the calendar and heard in response that they surely read the verses and reading them was giving peace to their souls. I asked the girls to read the verses and, having received their permission, I recorded a video of them reading the Bible verses in Azerbaijani.

In March, during the holiday of Novruz, we plan to hold a celebration event for children from refugee families living in our neighborhood. We agreed that as we would go to that location, we would take the girls with some of the adults of the household, so that they would be able to take part in the event.

We pray that upon fulfilling these plans, our friendship and kindness would bring great fruit of salvation and affirmation in the faith of these souls."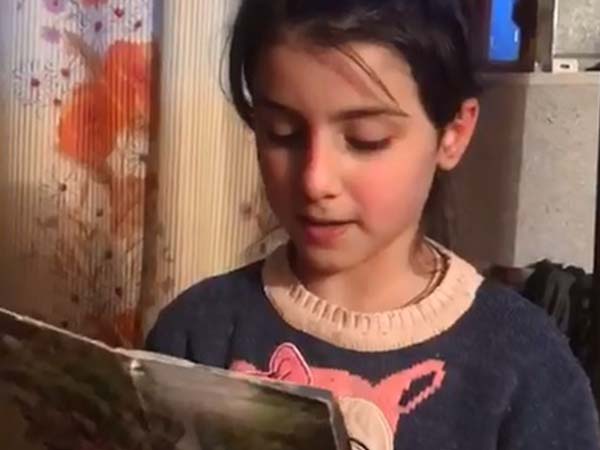 These children are reading the following verses from the Bible:
"Yet those who wait for the Lord
Will gain new strength;
They will mount up with wings like eagles,
They will run and not get tired,
They will walk and not become weary."
"'Do not fear, for I am with you;
Do not anxiously look about you, for I am your God.
I will strengthen you, surely I will help you,
Surely I will uphold you with My righteous right hand.'
"Behold, all those who are angered at you will be shamed and dishonored;
Those who contend with you will be as nothing and will perish.
"You will seek those who quarrel with you, but will not find them,
Those who war with you will be as nothing and non-existent.
"For I am the Lord your God, who upholds your right hand,
Who says to you, 'Do not fear, I will help you.'"
"'Call to Me and I will answer you,
And I will tell you great and mighty things,
Which you do not know.'"
"But just as it is written,
'THINGS WHICH EYE HAS NOT SEEN AND EAR HAS NOT HEARD,
AND which HAVE NOT ENTERED THE HEART OF MAN,
ALL THAT GOD HAS PREPARED FOR THOSE WHO LOVE HIM'"
"Beloved, let us love one another,
for love is from God;
and everyone who loves is born of God
and knows God.
The one who does not love
does not know God,
for God is love."