Editor's Note: The testimony below was provided by an SGA-supported pastor in Ukraine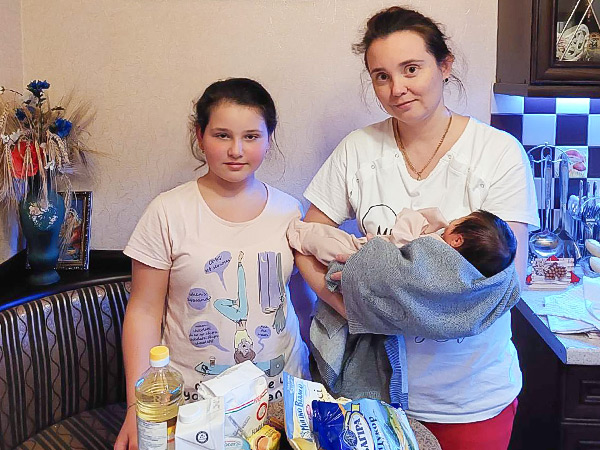 Oh, to be the hands and feet of Jesus and to let others see Jesus, not us! Sometimes it's easy for us to take credit for the ways we serve others here on Earth, but the most humbling of experiences is to show Christ by our example of love and care. In SGA-supported Pastor Ivan's ministry letter below, you will read how a welcome from believers displayed the love of Christ to a mother and her newborn child.
Let's continue to pray for their salvation and thank God for the safe delivery of this little baby. Read more from Ivan's account . . .
Peace and grace to all of you!

Thank you very much for the support of Compassion Ministry to the IDPs [internally displaced persons].  Here is a story from the life of immigrants and our ministry to them.

In this photo you can see Olesya with her children. The family is from Irpen. Olesya came to our village with her husband and daughter. They fled by car for 20 hours. A day later, after they had left Irpen, it was time for Olesya to give birth to a baby. Olesya had to deliver the baby on the way under air-raid alerts. The following day they came to the house of our people in the village. We provided everything they needed. Included were food items for the baby, diapers, wet wipes, and groceries. We continue caring for them.

We are glad that we can be God's hands and His voice. Our desire is to show God's love for them and at the same time we want to tell them that it is not us, but God, that He is everywhere and in everything. We pray that God would touch their hearts through this Compassion Ministry.

Thank you very much for your help with the ministry!

Pastor Ivan