Recently, SGA's vice president of ministry operations, Eric Mock, met with Pastor Vasily while travelling in Ukraine. Vasily is one of eight pastors at an SGA-supported church, which has received humanitarian aid that generous friends like you have helped provide as the war in Ukraine continues. Six distribution centers were created by this one congregation, and now four of these have become churches!
Vasily spoke of the continuing need for aid, and the concern that the need will become profound by this fall as new territories are reclaimed. In the video below, Vasily shares a message of gratitude for you, and asks for believers to continue praying and supporting the ongoing ministry work—both the need for emergency supplies and the hope of the Gospel in Ukraine.
"We are standing because you are with us," Vasily says. Watch more . . .
You can also see pictures of "victory bread" the church distributed to as many as 500 people on one day, as well as new flowers that are growing in the midst of the rubble. All praise and glory to God who provides and makes all things new!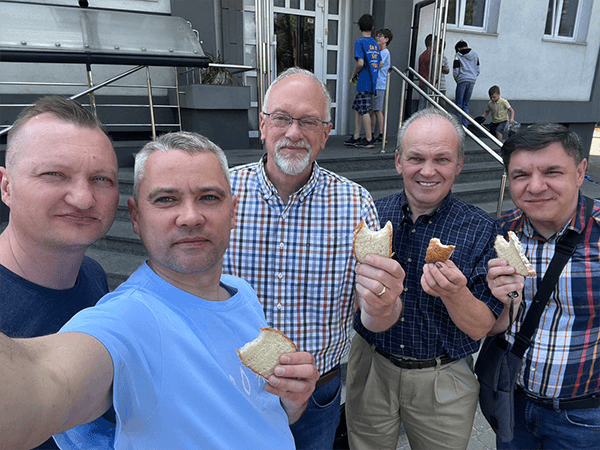 In a time of great uncertainty, God is bringing help, healing, and hope to the people of Ukraine through SGA-supported pastors, churches, a seminary, and SGA-sponsored Compassion Ministry. Be a part of God's incredible work with your generosity and prayer support.
Your gift of compassion helps struggling people with emergency aid that generally includes Scripture materials, food, medicine, warm clothing, and shoes.