Part 1 of a Siberian ministry trip report from Mikhail Zarovnyaev
At the beginning of the year, Mikhail and his wife, Ooruydana, traveled to three districts in Siberia: Megino-Kangalass, Kangallas, and Oost'-Aldan. Here are the stories of Lyuba and others they met and ministered to during the first two weeks of their trip.…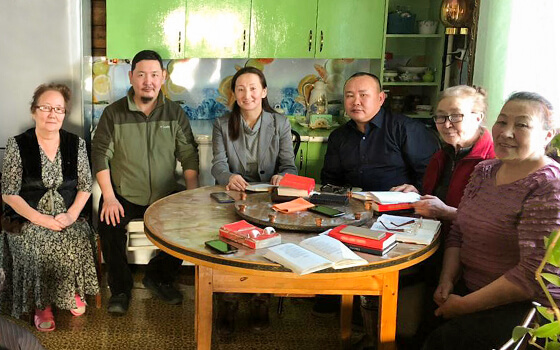 January 13 – Together with sisters from Pokrovsk church, we made a trip to Mokhsogollokh with a Christmas program. First, we went to a nursing home. There were about 20 listening to us. We started with prayer, and then we told the people about the Nativity of Jesus Christ. We sang hymns and witnessed about the Lord while everyone listened attentively.
After the service, we prayed that those who listened would trust Christ. One lady with a disability asked that we pray so that she would be healed from her illness and could walk. Her name is Lyuba, and I shared with her that salvation of her soul is the most important request and then that God was able to heal her illness. She was sitting in a wheelchair after a stroke, and she prayed and asked for forgiveness from Jesus Christ. After prayer, she wept and said to us: "Come back! I will be waiting for you." This is how God is working in the hearts of people! We all rejoiced together with her. Another man named Anatoliy said that he had believed in God a long time ago. Our sister spoke with him in his room where he had icons. His face was bandaged after a fire, and he is also seeking God.

January 26 – My wife Ooruydana and I took another couple with us (Albert and Aitalina Efremovs), and we went to the village of Balyktakh in the Megino-Kangalass district to hold a service for four baptized sisters and two seekers. Brother Albert took us there in his car, and we arrived there by lunchtime. We started the worship service right away, and I preached a sermon titled, "The Biblical Jesus." Ooruydana, Albert, and Aitalina shared testimonies of how God drew them to Himself. At the end of the service one of the seekers said that she wanted to repent of her sins and accept Jesus as her Savior. We rejoiced and joined her in prayer to our Lord Jesus Christ. Then we glorified Christ in our songs. They invited us to a meal, so we ate and fellowshipped. They asked questions, received answers, and were filled with joy. For the Efremovs it was their first time on an outreach trip. They were very encouraged by it. Their hearts were set on fire, and we praise the Lord for our trips. Amen!