Editor's Note: The images and report below were provided by an SGA-supported pastor in Ukraine.
SGA-supported pastors like Anatoly in Ukraine continue to need our prayers. He has chosen to remain in Ukraine with his family and serve the needs of his community — and of Ukrainian refugees who need shelter, food, and care after fleeing the fighting in other parts of the country.
Pray for Anatoly as you read his report below, and rejoice with us to see how God is flourishing this life-changing ministry . . .
I greet you all with the love of our Lord Jesus Christ.

May the Lord abundantly bless you all with His Fatherly blessing, protect you from all evil, and fill you with the power of the Holy Spirit for work in the Lord's field! That you have peace, joy, and everything necessary for your life!

I sincerely thank you all for your great care and help for me, my family and our church. Thank you for your great prayer and financial support that you give to my family. May the Lord bless you a hundred times more, so that you have everything you need and glorify Him!

A full-scale war is going on in our country. The war is very cruel, insidious, inhumane. The situation in the part of the country, where hostilities are going on, is very difficult. And where there are no hostilities, this is where refugees flee.

There are many men from our village at the front. We pray for them. Thank God, no one has been killed yet. Two are wounded. And in neighboring villages many have already been brought in coffins. There were many refugees in our village. Believers and non-believers lived in people's houses.


A mother and three children from [another village] lived with us. People came in warm clothes, without any belongings. We have already collected and organized everything here, clothing and products and everything necessary for life. We also collected food for our soldiers at the front.

Then humanitarian aid from different countries began to arrive in our region from brothers and sisters. My wife and I went to [another village], there we took aid, packed it in bags and distributed it to refugees, families with children of soldiers and to all those in need. During this work, people were told about Jesus Christ and were invited to the House of Prayer.

In one of the rooms, beds and mattresses were laid out for the refugees. We brought humanitarian clothes, hygiene products, children's literature and toys. People were very satisfied and grateful. They came to worship services and thanked God. Some people went home, and some have nowhere to go, everything was bombed.

Our region, thank God, was not bombed, although sirens sound often, especially in the city. The time is disturbing and difficult. Pray for us so that we can, and have something, to help people.

Please, pray for our country that God will stop this calamity, death and grief that comes with every shell. Pray for my wife, that God will strengthen her health. Her legs are swollen and hurting. Diabetes is doing its job. Thank you once again. Peace to you, health and God's grace!

With love, Anatoly and Lyusya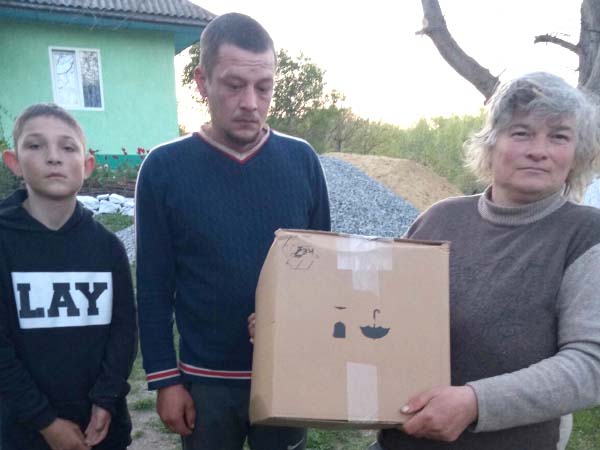 In a time of great uncertainty, God is bringing help, healing, and hope to the people of Ukraine through SGA-supported pastors, churches, a seminary, and SGA-sponsored Compassion Ministry. Be a part of God's incredible work with your generosity and prayer support.
Your gift of compassion helps struggling people with emergency aid that generally includes Scripture materials, food, medicine, warm clothing, and shoes.