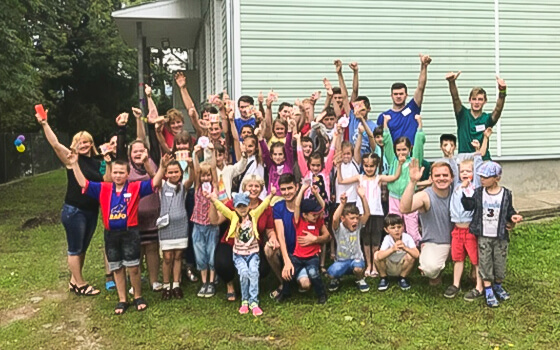 Part

2

of a summer camp r

eport from

SGA team member

Pavel D. in Ukraine
As we prepare to begin a busy summer camp season across the countries of the former Soviet Union, we want to share with you what Pavel reported after last summer's fruitful time of sowing seeds in young lives.…
We have begun a new ministry project in a mountain area where there are no believers at all. God has already helped us to buy a building in a village for the future church and the missionary family that will be serving there.
We had an amazing "soul-winning" project in this location during the month of July. For eight days, we had about 25 missionaries with us going door to door, from village to village, preaching the Gospel of Jesus. We worked in eleven villages and had hundreds of amazing, personal meetings with people. Every day, before we went into a new village to start our work, we gathered together and prayed for open doors and open hearts for the Gospel. Can you believe — over 1,000 people heard the Gospel during these eight days! Many people chose to pray a prayer of repentance.









We had to plan our trips very carefully, because sometimes, walking house to house, bad people can stir up a situation to try to force us out of the village. As our missionaries walked from house to house, they invited kids to a camp, which we had planned for the following week. There was one man that disagreed with what we were doing and tried to forbid the children in the village from coming to our camp. So, we prayed and continued working hard in the village.
As a result, 35 kids from that village visited our five-day camp. We see that God is working and nobody is going to stop the holy work for the Kingdom of God. I believe that working with kids is our best investment in the future. It was amazing to see seven new people, parents of some of the children we were working with, come to us during the week and choose to attend a service on the last day. Please pray for the village Shepit, where we had the week of evangelism and the summer camp for children. Pray for revival there.