As you read this story, please take a moment to pray for the many families who have been greatly impacted by the flooding from the Nova Kakhovka Dam destruction in Ukraine two months ago. The impact didn't end when the flooding stopped. That was only the beginning of great hardship and difficulty. 
Oleksandra, our team member in Kiev, shares in the story below about a team from her church who took humanitarian aid to the people in the flooded areas. "Their hope was almost gone." But through love, prayers, and the Good News of the Gospel, "blessing was brought to these hurting souls."
"People living in the village of Novovasylivka still remember vividly how they paddled over their underwater fences on boats. They didn't expect the consequences of flooding to be worse than the flood itself. When the water receded, people realized that they had no place to live anymore. Some of them said it was worse than a rocket attack. When a rocket hits your house, you understand it's over, you turn the next page and start looking for a new place to live. But in the case of flooding, the buildings appeared to be intact so there was hope to restore them for habitation. Unfortunately, the reality showed the opposite.

The residents of Novovasylivka surprised us when they asked us to bring cleaning products besides drinking water and food. It turned out that mold was the first problem they faced after flooding. Any cleaning chemicals couldn't help to get rid of it. The second problem was the smell. It was so bad that we found it impossible to stay inside when people showed us their homes. We had to hold our breath when we went in. It smelled of rotten fish and mold. There is no way that photos could ever show the real scale of the catastrophe after the dam explosion.

Another big frustration for people was seeing that furniture could not be saved. Everything was damaged, broken, and unusable. Families who lived there started to lose hope to restore their houses when some days later after the water recession the walls began to fall down. Their houses were crumbling. Not only their houses were lost, but their fields were affected too. The region of Mykolaiv is famous for its fertile soil. So, this year lots of families expected a generous harvest of grapes and figs. But the water washed away everything, turning the land into a desert. Not even a bush or tree survived.

We came to that village to share the Gospel, but we found ourselves speechless after seeing all of the damage. We were sincere. We said we couldn't answer all of the people's questions. We couldn't say why God let that happen, but we shared that all things necessary to know can be found in the Bible. Seek God and He will answer. We distributed Bibles. Though we didn't speak much, we listened a lot. We offered hugs for people and prayed for them. It turned out to be the biggest blessing for these hurting souls.

As we were leaving, we noticed smiles on peoples' faces. They were moved by the fact that even in distances far away, there are men and women who pray for them, care about them and travel a long way to share the Good News and bring hope. Their hope was almost faded. But we know that Jesus always appears at the right time and a bruised reed He will not break, and a smoldering wick He will not snuff out. In faithfulness He will bring forth justice. People appreciated the attention, hearing God's Word, and the prayers even more than the humanitarian aid. Sometimes we think we don't have much to offer, but when God takes two fish and a couple of bread loaves that you have, it is more than enough to feed those who hunger, multiplying it thousand times.
Destruction to homes and property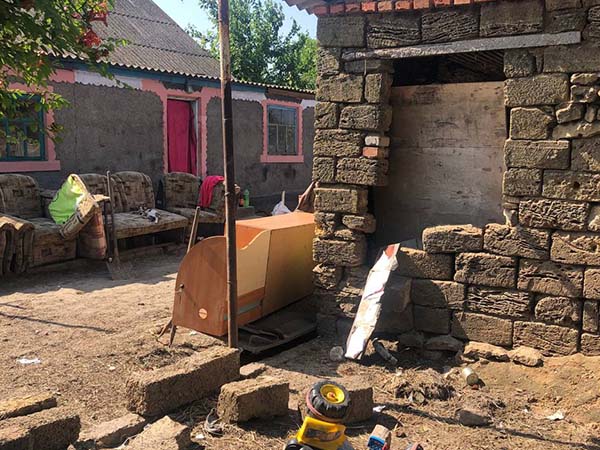 Providing clean drinking water
---
In a time of great uncertainty, God is bringing help, healing, and hope to the people of Ukraine through SGA-supported pastors, churches, a seminary, and SGA-sponsored Compassion Ministry. Be a part of God's incredible work with your generosity and prayer support.
Your gift of compassion helps struggling people with emergency aid that generally includes Scripture materials, food, medicine, warm clothing, and shoes.